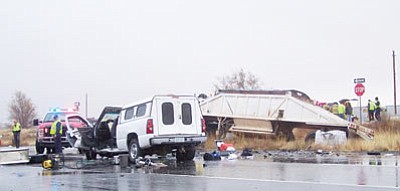 Originally Published: December 9, 2014 10:58 a.m.
KINGMAN - The driver of a tractor-trailer that was involved in a crash that injured four high school students Dec. 3 is a Mohave County Public Works employee and the belly dump he was operating is a county vehicle.
The accident, which occurred just before 8:30 a.m. on a rainy Wednesday, remains under investigation, according to the Arizona Department of Public Safety, which confirmed the tractor-trailer was a county vehicle.
Mohave County Administrator Mike Hendrix acknowledged that as well. He would not comment on the accident, saying only, "My thoughts and prayers go out to those involved in the accident and to their families."
The county driver, who has not been identified, refused treatment at the scene.
According to authorities, the crash occurred on Route 66 and Gordon Drive. The driver of the pickup and three other students were headed to Lee Williams High School.
Jeremiah Graffius, Andrew Davis and Marciela Carrillo sustained non-life-threatening injuries and are back home. The most seriously injured, Miranda Kenton, is no longer in a medically induced coma. She remains hospitalized in the intensive care unit at University Medical Center in Las Vegas, according to Al Carrillo, Marciela Carrillo's father.
The pickup struck the tractor-trailer as the county employee attempted to cross the highway at Gordon Drive. The impact was significant enough to push the belly dump into the median and there was devastating damage to the front end of the pickup. Emergency responders had to use hydraulic tools to remove three of the four students. One of them was able to get out of the truck without assistance.
This is the second time a county public works employee has been involved in a serious accident in the past five months.
Former supervisor Kevin Stockbridge was driving a county truck on the Oatman Highway July 2 when he inexplicably plunged 150 feet off a steep embankment.
Stockbridge was lifted from the crash site by a DPS helicopter in a complex rescue operation.
He was not injured, but the county pickup was a total loss. Stockbridge reportedly resigned his position shortly after the incident. Mohave County officials declined to discuss the crash, citing privacy issues.
Stockbridge was not cited and no charges alleging impaired driving have been filed, according to the Arizona Supreme Court's public access website.