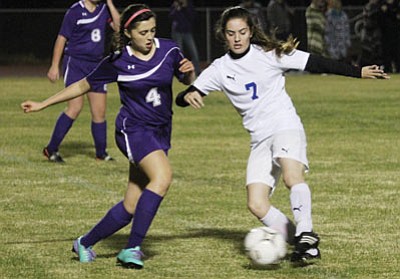 Originally Published: December 10, 2014 6:02 a.m.
KINGMAN - After losing to Lake Havasu on Thursday in the regular season and on Friday at the Lake Havasu Soccer Tournament, the Kingman High Lady Bulldogs denied the Knights a sweep Saturday. Kingman got the better of Havasu in the championship match, 1-0.
The Lady Bulldogs' Elizabeth Angle broke the 0-0 tie in the game's 64th minute.
Kingman (4-3) advanced to finals after beating Lee Williams in an elimination match, 2-0. It was the second time in the tournament the Lady Bulldogs beat Lee Williams and the third time this season.
Lee Williams looks for first win
After finishing the Havasu tournament without a win, Lee Williams (0-5) tried to gain its first win Monday in Flagstaff against Coconino (2-0).
The Lady Volunteers were unsuccessful, falling to the Panthers 9-0.
"I am very proud of my girls," said LWHS coach Tom Poole. "They never quit and played hard until the final whistle."
Lee Williams next plays Monday at Prescott.
GIRLS BASKETBALL: Kingman struggles in last two
After winning its first three games in the River Valley Shootout Friday and Saturday in Mohave Valley, the Kingman Lady Bulldogs came up short to Fallbrook, Calif., 46-33 for the championship.
Kingman (6-3, 3-2 D-II) held a 12-5 lead at the end of the first quarter, but Fallbrook outscored the Lady Bulldogs 41-21 over the last three quarters.
Desirae Gonzalez led Kingman with 24 points.
The Lady Bulldogs reached the championship game after beating Lake Havasu Saturday, 66-45. Gonzalez finished with 45 points and Carly Lawrence added 12.
Kingman returned to the regular season against Sierra Linda Monday in Phoenix. The two teams battled to a 28-28 tie at the half, but it was all Sierra Linda in the second half as Kingman was outscored 57-13.