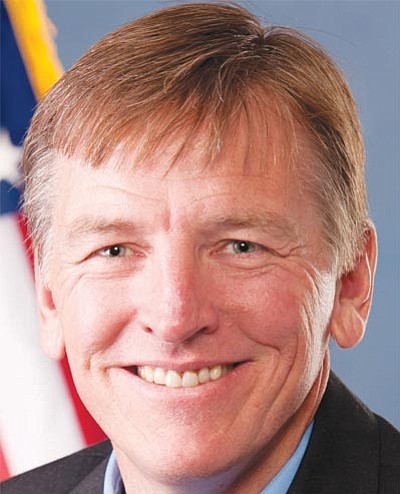 Originally Published: December 11, 2014 6 a.m.
KINGMAN - Sen. John McCain voted to pass the Bill Williams River water rights bill, but said he understands rural communities' concerns over county revenues that would be lost under the agreement.
"I support this legislation, but would expect that the broader Hualapai water settlement to follow will be developed in consultation with the community and their concerns be fully vetted by Congress," McCain, R-Ariz., said in a statement.
The bill, passed unanimously this month by the Senate and House, would ratify two settlement agreements among the Hualapai Tribe, Freeport McMoRan Minerals Corp., the U.S. Department of Interior and the Arizona Game and Fish Department.
It allows Freeport to transfer 10,000 acre-feet of water from Planet Ranch in Mohave County to Bagdad mine in Yavapai County, which reportedly provides $16 million in economic activity and 175 jobs for Mohave County.
Mohave County Supervisor Buster Johnson said he is "deeply disappointed" with Arizona's congressional delegation for approving the settlement. The bill was introduced by Rep. Paul Gosar, R-Ariz., in June.
"The Mohave County Board of Supervisors has communicated their deep concerns on previous occasions to Congressman Gosar, but it appears he is unwilling to consider the concerns of Mohave County and instead favors the corporate interests of Freeport McMoRan and the Bagdad mine," Johnson said.
Mohave County Assessor Ron Nicholson provided a comprehensive report on significant negative impacts on county tax rolls from the proposed settlement.
Mohave County, with 13,400 square miles, is one of the largest counties in the United States, yet only 14.3 percent of the land is private and taxable. Under the Bill Williams River settlement, Freeport will convey land to Arizona Game and Fish and the Hualapai Tribe.
The loss in property taxes is estimated at $39.5 million for the Game and Fish land and $171.2 million for the Hualapai land over the next 100 years.
It's a "shame" that Gosar ignored the public stance in opposing this "rip-off" of Mohave County resources, Johnson said. The water and lands are in Mohave and La Paz counties, but neither was allowed to participate in the discussion.
"At a time when Congress cannot pass, let alone balance, a budget, fix immigration or address health care, our delegation finds time to contact every member of Congress for their support on stripping Mohave County of its natural resources," he added.
Gosar disputes the county's claim of lost tax revenue. Freeport paid about $2,400 in property taxes on the land in question in 2013, an insignificant fraction of the $51.8 million the county levied in property taxes, he noted.
"These estimates are made upon hypothetical future changes to Arizona tax law, a potential bill in the future of which discussions on haven't even begun, fundamental land-use changes, and mathematical equations that are so far removed from the industry accepted practice of accounting as to render the estimates not only grossly inaccurate, but largely incomprehensible," Gosar said.