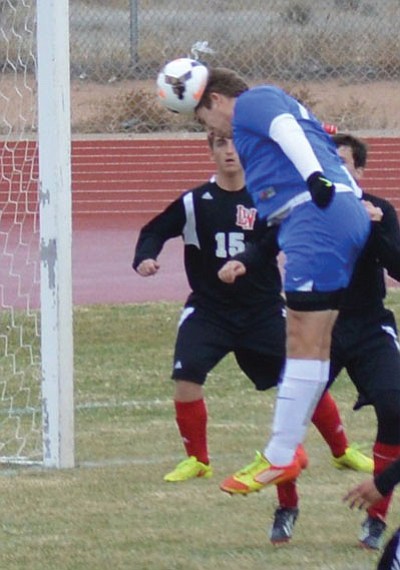 Originally Published: December 14, 2014 6 a.m.
KINGMAN - After scoring 23 goals over the first four Mohave County Invitational Soccer Tournament games Thursday and Friday, the Kingman Bulldogs' offensive well went dry in the semifinals Saturday. Mohave handed Kingman its first loss of the tournament - and of the season - blanking the Bulldogs 5-0 to reach the championship match against Verrado late Saturday.
Kingman (9-1 overall) reached the semifinals with a 3-0 win over Lee Williams to open play in the championship bracket Friday. The Bulldogs clearly had the offensive supremacy in the match, but the Volunteers' "Desert Swarm" defense held tough through most of the contest.
The game was scoreless at the intermission, with Kingman putting up 13 shots on goal as Lee Williams managed just four.
The Bulldogs let loose with 16 shots in the second half, three of which found the net. The first came in the 41st minute when Adam Kopecky demonstrated a perfect header, getting the assist from Daniel Lavertue on a corner kick. Ten minutes later, Taylor Ferrin's bouncing shot down the middle got past Volunteer keeper Collin McMullen for Kingman's second score. One minute after that, Derek Dernier got through the Lee Williams defensive line for an easy goal.
McMullen finished with eights saves for the Volunteers. In the 53rd minute, Lee Williams did find the net when Dylan Good's penalty kick was good. However, the Volunteers were called for being in the box prior to kick and Good had to try again. He missed on the second attempt.
Kingman entered bracket play as the No. 1 seed from the Bulldog bracket. The Bulldogs went 3-0 with wins over Lake Havasu (6-2), Page (4-0) and MALC (10-2). Lee Williams was 0-3.
Ferrin had a hat trick with three goals in the Kingman win over Havasu. Bernier, Chandler Baca and Derek Brown each had a goal for Kingman. Against Page, Ferrin and Baca scored again with Tyler Julle and Manuel Tadeo each adding a score.
There were lots of goals scored against MALC, and Baca led the way with a three-goal game. Brown, Bernier and Daniel Lavertue put two in the net for the Bulldogs, and Ferrin added one.