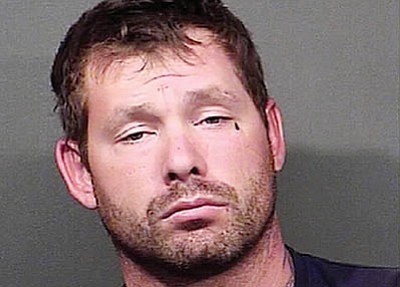 Originally Published: December 15, 2014 12:30 p.m.
KINGMAN - A transient was arrested Saturday after he allegedly ambushed and stabbed a Kingman man in the back on Stockton Hill Road and Beverly Avenue.
Philip Lee Ross II, 32, later allegedly accosted a driver on Harrison Street before attempting to enter homes on Irving Street, where he was ultimately captured.
Kingman Police officers responded to the stabbing at about 6:30 p.m. The male victim, 37, was riding his bicycle northbound on Stockton Hill Road when Ross reportedly approached him and asked for his jacket and help for his children, according to Kingman Police spokeswoman Jennifer Sochocki.
When the bicyclist later returned to the area, Ross allegedly jumped from the cover provided by trees and stabbed him with a five-inch knife.
The attacker fled on foot before police arrived, but they soon responded to the 3300 block of Harrison Street, where a woman reported a man matching Ross's description attempted to get a ride from her - and that he grabbed the steering wheel of her car when she refused to give him one.
An Arizona Department of Public Safety helicopter crew and the Mohave County Sheriff's K9 units joined in the search, which came to an end at about 8 p.m. when officers responded to a home in the 3500 block of Irving Street regarding a man attempting to enter homes in the area. Ross reportedly tried to outrun police but he was caught after he was shot with a Taser and taken into custody. He was taken to Kingman Regional Medical Center and then booked into the Mohave County jail on a felony charge of aggravated assault.
The stabbing victim was also taken to KRMC before he was transported to University Medical Center in Las Vegas in stable condition, according to Sochocki.