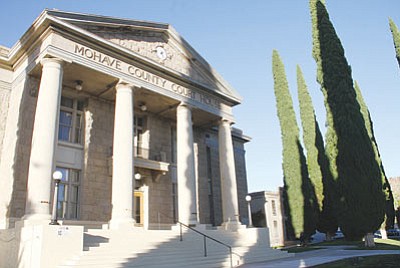 Originally Published: December 16, 2014 6 a.m.
KINGMAN - The historic Mohave County Courthouse would be preserved and expanded to 89,000 square feet with seven courtrooms under a plan presented Monday to the Board of Supervisors at its regular meeting.
Chang-Ming Yei, principal of the Denver-based National Center for State Courts, said the first phase of the plan is to build a new Superior Court building that would connect to the existing courthouse through a graded hallway, and the second phase would be to renovate 35,000 square feet in the existing courthouse and annex.
Yei said he "fully appreciates" the historical significance of the 100-year-old courthouse, a registered national landmark, and that everyone has an attachment that gives it a "tangible or intangible value."
Supervisors must also consider phased construction to allow for "swing" space needed to operate equipment and store material.
The presentation was informational only and required no action Monday. Supervisor Steven Moss made a motion to bring back a full report for board approval.
The goal is to achieve a modern courthouse design with security and separation between employees and prisoners, public accessibility and increased parking capacity, Yei said.
Design challenge
As he looked at how he could accommodate on-site expansion with the new building and historical courthouse, Yei said it became "pretty dismal." The question is whether the existing building can meet security and access requirements to continue operating.
Accompanied by senior consultant and architect Nathan Hall, Yei showed blueprints for a four-story courthouse with a parking garage for prisoner transportation through the back, away from the general public.
The first floor would be for court administrative staff and public entrance from Spring Street. A three-story atrium would be part of the lobby. Courtrooms would be on the second and third floors, and judges' chambers would be on the fourth floor.
The expansion plan takes away about 30 parking spots, Yei said. There are several options for providing replacement parking, including the demolition of Arnold Plaza.
The expansion plan is tight, but "very promising" for the long term, Yei said.
The design can be expanded to at least 15 courtrooms in the future by taking the annex and building another expansion, he said.
The firm also looked at a hilltop site behind the county jail, but Yei said it would cost too much for infrastructure and utilities, and there was no flat land to build upon.
Yei estimated it would cost $14 million to $16.5 million to build the four-story courthouse and $4 million to $5 million to renovate the existing courthouse.
He tacked on another 25 percent for "soft costs" such as engineering and architectural services and furnishings for the new building. It could run as high as $26 million to $27 million for complete buildout, not including parking.
Mohave County administrator Mike Hendrix said the community has rallied around the option of keeping the courthouse downtown, which is important.
It's going to be an "extreme challenge," he said. He'll need to evaluate available funds for building projects and be careful on to when to start the project.
Superior Court Judge Charles Gurtler said judges voted 8-1 to move forward with the plan to expand the existing courthouse.