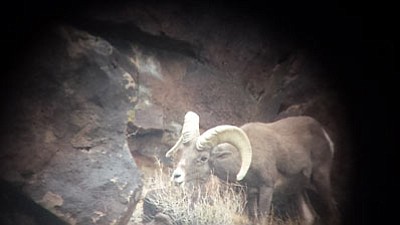 Originally Published: December 16, 2014 6:02 a.m.
The 2014 desert bighorn sheep hunt is about half over and just over half of the hunters have harvested a ram, according to the Arizona Game and Fish Department.
This year, there were 26 tags issued to lucky sportsmen and women who beat some incredibly high odds in drawing a once-in-a-lifetime tag.
Hunters who had tags in Region 3 were able to hunt sheep in Units 15B West (3 tags), 15C North (3 tags) and 15C South (2 tags).
Other units in this region which have sheep tags in them include Units 15D North (8 tags) and 15D South (4 tags), along with Unit 16A (3 tags), 16B (2 tags) and Unit 18B (1 tag).
Anyone who knows anything about sheep knows that Unit 15D North is the premier unit in this region.
This year there were 8 tags issued for this unit and so far, according to Game Specialist Erin Butler, five of those permit holders have checked in rams.
One ram that was checked in was taken by Robert O'Connor of Payson and scored 172-1/4 inches. Another Unit 15D North hunter, Linda Kelly, who was assisted by local guide Craig Steele, took a ram that scored just over 169 inches. Both rams will qualify for the prestigious Boone & Crockett record book.
If you would like to see video of Kelly's exciting hunt, go to http:///ORGhunt.com and click on Huntformore 16.
Awesome video, with over-the-shoulder footage of Mrs. Kelly taking her once-in-a-lifetime ram.
Another big ram was taken by local resident Justin Sturgill, who was hunting in Unit 16B. Sturgill's ram scored 163-1/8 and could qualify for entry into the Arizona record book for desert bighorn sheep.
Another Kingman resident, Craig Wright, has a Unit 15C South ram tag, but has not taken a ram so far, according to the Game and Fish Department.
Another Kingman resident, Hub Grounds, drew a Rocky Mountain bighorn sheep tag for a unit in eastern Arizona, but there is no report of him taking a ram on that hunt.
In the past, the success rate for these very limited hunts has been around 100 percent.
Many hunters are very selective of the rams they take as the rule is that each hunter is allowed to take only one ram of each species (Arizona has two species, Desert and Rocky Mountain).
The hunts started on Dec. 1 and will end on Dec. 31.