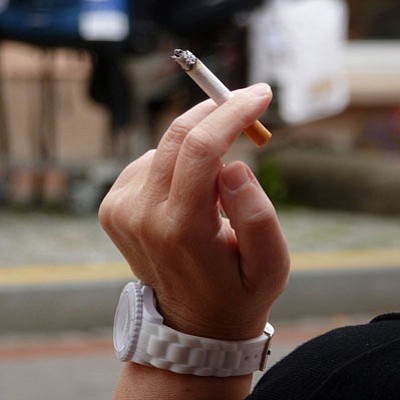 Originally Published: December 18, 2014 6:02 a.m.
KINGMAN - It's a nasty habit - even most smokers will admit that - but should employers, including those funded by taxpayer dollars, get more involved in controlling it than they already are?
The Pima County Board of Supervisors delayed a decision Tuesday to ban the hiring of prospective employees who smoke or use tobacco products. The county administrator asked the board to hold off until Feb. 10 while he gathers more information.
The proposal would reject any county government job applicant who smokes, and impose a 30 percent health insurance surcharge on county employees who smoke or consume tobacco products.
That issue hasn't come up in Mohave County and probably won't, Supervisor Steven Moss told the Daily Miner. He has adamantly expressed his intentions not to allow Arizona to "turn into California" on other issues, such as banning cell phone use while driving.
"Whether one smokes or not is a personal choice," Moss said. "I don't smoke, but I believe those who do have a right to be fools. This is still America and whether one smokes or not shouldn't affect your job prospects."
Moss could see where an employee's insurance rate might increase for engaging in "risky behavior" such as smoking. Personal responsibility means bearing the consequences of bad decision-making, he said.
Pima County health officials estimate the policy could save more than $1 million a year in health care costs. Nearly one-third of the county's 2,000 employees are tobacco users.
Mohave County Supervisor Buster Johnson said the county currently charges a higher insurance premium for employees who smoke. Any change in the smoking policy would come from the Self-Insurance Retention and Employee Benefits Trust board.
Though the smoking ban may be justified by insurance costs, it's bad policy on balance, Moss said.
"It is important to keep in mind that this is a slippery slope," he said. "If we do it to smokers, we can do it to those who eat too much sugar or fats, those who don't exercise, engage in unprotected sex.
"It is a major intrusion into people's personal lives. This is why I generally disagree with it. I don't think government should be sticking its nose into the personal lives and legal choices of its citizens, including its employees. It gives government way too much power to dictate morality and common sense."
Mohave County Supervisor Jean Bishop also weighed in against the hiring ban, noting that tobacco is a legal product and using it is a personal choice.
"Turning applicants away seems a bit over the top and wrong in many areas," Bishop said. "Mohave County can offer assistance to our employees who wish to stop smoking and we offer health insurance incentives to nonsmokers, but for county government to turn away job applicants who smoke or consume other tobacco products is at the very least an unfair hiring practice."
According to a health report last year, cardiovascular disease was the No. 1 cause of death for Mohave County residents in 2011, just as it was worldwide. It includes heart attacks and strokes. Cancer was the second-leading cause of death.
The third-leading cause of death in the county, with around 100 people in every 100,000 residents, was due to chronic lower respiratory disease, which includes chronic bronchitis, emphysema, asthma, and chronic obstructive pulmonary disease (COPD).
"The death rate from COPD in Mohave County is alarmingly high and most certainly attributed to the large number of smokers in the community," the report stated.
According to the survey, 28 percent of Mohave County residents over the age of 18 reported that they smoked, compared with 18 percent statewide and 19 percent nationwide.