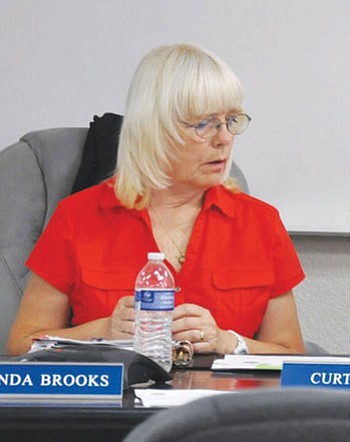 Originally Published: December 21, 2014 6 a.m.
GOLDEN VALLEY - Barring complications with the Board of Supervisors in January, or the resignation of Golden Valley Fire District Board Director Rhonda Brooks, the Golden Valley area will see a recall election scheduled for May 19.
The recall, led by fellow Director Steve Robinson against Brooks, had exactly the right amount of valid signatures needed to pass on to the Board of Supervisors.
According to the fee schedules from the Mohave County Elections Department and the County Recorder, the cost of the recall is estimated at around $26,800 (based on the estimated 6,300 registered voters in Golden Valley). That figure will be billed to the Golden Valley Fire District after the election takes place.
While the agenda for Wednesday stated that there could be possible action by the board concerning the recall, unless Brooks elects to resign, the recall election must take place.
The board is not permitted to act on the recall election in any manner.
"Mr. Robinson would rather spend money on me than on the taxpayers," said Brooks. "I will never quit."
Legal action?
The board also addressed Brooks' refusal to turn over personal emails to friends that allegedly contain privileged executive session information. Allegations were made when information from executive sessions appeared in Facebook groups.
The board has asked her for the emails on numerous occasions and is currently exploring legal action.
"What benefit derives from this if it is pursued, other than the loss of money to the district?" new board member Jack Hommel asked. The estimated cost to pursue legal action against Brooks would be around $20,000.
Robinson responded that he wanted all board members to be held to the "same standard of laws."
"Are there emails? And if there are emails, will you release them to the board for review?" asked Director Paul Gorham during the meeting.
"No," stated Brooks.
After a motion initiated by Hommel to drop the legal pursuit of those emails failed (3-2), Robinson attempted to initiate a vote on pursing legal action. Because the agenda had no mention of pursing legal action, the motion was dropped and the board moved any further discussion to January's meeting.
Guerrero report
GVFD hired a law firm in Scottsdale to investigate three allegations:
• Chief Tom O'Donohue failed to protect former employee Nicole Guerrero against "unwelcome advances" by a Golden Valley resident at work.
• Guerrero and O'Donohue were subject to hostile treatment by Brooks.
• O'Donohue retaliated against Guerrero for complaints over employee pay issues.
The investigator "did not substantiate" Guerrero's claims against O'Donohue on his failure to protect her and retaliation, according to the report, which also states that she was "derelict in her duties as Administrative Manager."
The investigator also found that "Brooks' communications and interactions with O'Donohue and Guerrero have been hostile to such an extreme degree that she has seriously damaged her working relationship with these individuals and caused significant disruption to the efficient operation of District business," according to the report.
Brooks disputed the findings.
"I have never received a complaint from Chief O'Donohue," she said. "The last complaint I got from Nicole Guerrero was July 17, 2013."
Brooks said she never received the complaint that was part of Guerrero's lawsuit.
O'Donohue was asked to speak during the meeting concerning the allegations.
"I thought that there were serious enough allegations that it needed to be held in public, and I also thought it was a serious enough allegation that, if there's no findings according to this report, that the board needs to make sure that is also verbalized that these were unsubstantiated, which means I am not guilty as alleged," O'Donohue said.
"That's a pretty serious allegation, and it was unfounded apparently in this report, and that's important not only for the board to verbalize but for the community to know, because that was on the front page of the newspaper. That's my reputation."
Guerrero was let go from the fire district and is seeking $75,000 in lost wages and legal fees.
Click for home delivery with comics, grocery deals, inserts, TV listings, coupons and more