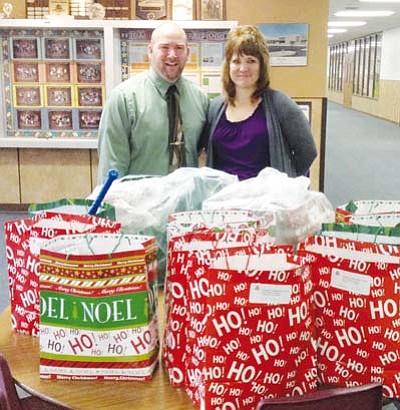 Originally Published: December 22, 2014 6:01 a.m.
KINGMAN - Over the past two years as assistant principal of White Cliffs Middle School, Tonia Cobanovich has seen her fair share of donations from the community for the more than 700 students on the campus.
There's the common donations - sealed bottles of water, school supplies, backpacks, snacks for testing sessions, school T-shirts and jackets, sports uniforms, toothbrushes and toothpaste, and a variety of gift cards. They come in every month from businesses and individuals and are given out to students as the need arises.
And then there's the not-so-common donations - feminine hygiene products, tissues and wipes, frog bodies for dissection, scrap-booking material for the school's art classes, a package gift of a bench, tree, plants, flowers, planting mixes and garden décor, and just this month, 139 pairs of new socks. These and similar gifts come in throughout the school year and are used when appropriate.
For Cobanovich, who was promoted to principal at WCMS about three weeks ago, the donations save money for the school and Kingman Unified School District, as well as help make students' lives easier. The school and district are receptive to most donations, whether they're musical instruments or money to pay for bus rides on field trips, and see the contributions as a way for the community to get involved in students' lives.
No surprise
"The amount and types of donations we get does surprise me some, but it doesn't shock me," said Cobanovich. "They remind me of how thankful I am to live in a city where people take care of those in need. Without our donors, our students would be in trouble. It warms your heart and makes you remember why you got involved in education."
KUSD receives hundreds of donations each year, said Jeri Wolsey, director of curriculum for the district, including items, services and finances. KUSD also has a school tax program that offers a tax credit to residents who donate up to $200 individually and $400 as a married couple to any school for athletics, academic enrichment, fine arts or extracurricular activities that are typically not fully funded by the district.
Contributions to the program can be made through the end of December. Donations to district or individual schools can take place at any time.
"Donations make a huge difference, because they help supplement things we couldn't have, whether it's an after-school activity or a website," said Wolsey. "They also help provide school supplies for students who can't afford to buy their own. The donations show that our whole community supports a good education and positive learning experience for our children."
Backpacks
Recent donations to the district included a large collection of backpacks and school supplies valued at $8,754.95 from Mission Bank, and $680 worth of diabetic equipment to be divided between nurses at the schools with the most diabetics.
Donations to individual KUSD schools included two defibrillators for Kingman High School from Northern Arizona Consolidated Fire District, 13 cases of snacks for testing at Lee Williams High School from McKee Foods, a used piano for Manzanita Elementary School, 28 winter jackets from College Park Baptist Church to Cerbat Elementary School, and a refrigerator for the KHS food pantry from Praise Chapel.
Purple hair
Other school donations were hair dye and services from Bit of Heaven Salon for coloring the Desert Willow Elementary School principal's hair purple, 325 hot dogs and 325 hamburgers for a KHS event from Kingman Regional Medical Center, 20 dictionaries to a class at Mt. Tipton School by Route 66 Rotary Club, and $1,069.17 from the Hualapai Parent Volunteer Association for plaques, conference motel rooms and field trips for teachers at Hualapai Elementary School.
Many of the donations come from businesses, organizations, churches and individuals who have a vested interest in helping the schools in their neighborhoods, said Tony Victory, principal for three years at Cerbat Elementary School. Either their own children, or those of their employees and members, attend KUSD schools and benefit from the variety of contributions.
"The donations don't surprise me," said Victory. "Kingman has been very giving, and we have groups in the city who are focused on education and making things better for the students. They want to see the children be successful and are willing to help any way they can. And that's our goal - the community taking care of the community."
That includes the Kingman Moose Lodge #1704, whose members recently donated the fixings for 30 turkey dinners to needy families at Cerbat. The Kingman Powerhouse Kiwanis Club regularly visits the school to encourage fourth-grade students to improve their grades by rewarding them with certificates, pencils, bookmarks and a pizza party. And the Kingman Rotary Club provides dictionaries to third-graders at the school.
The district also counts free presentations from organizations and volunteers as part of its donations from the community, such as fire prevention and safety demonstrations by fire departments and seminars about domestic and dating violence by anti-abuse groups. It also includes discussions from volunteers about public issues, such as a recent speech from a Holocaust survivor whose granddaughter teaches in the district.
Art masters
Local parents and volunteers also have made contributions to KUSD schools, said Joyce Pietri, who is in her third year as principal at Manzanita Elementary School. The Art Masters program there has been completely run by about 15 parents and volunteers once a month for 10 years and provides an education to the students, who don't have an art teacher. All the program's supplies - paper, brushes, paint, googly eyes - are donated.
During the course, students learn color theory, positive and negative shapes, pattern, texture and balance, and they are introduced to realism and impressionism. They study art masters Auguste Renoir, Diego Rivera, Henri Matisse, Vincent van Gogh, Claude Monet and Edgar Degas. They also create collages, drawings and paintings.
"This is an amazing donation of people, time and material from the community that benefits everyone," said Pietri. "It enriches the adults' lives and allows them to see the value of education. It also lets them view the students in a different light. As for the students, it's just amazing to see the quality of their work. There's a new spark in their eyes as they talk about participating in this class."
Click for home delivery with comics, grocery deals, inserts, TV listings, coupons and more