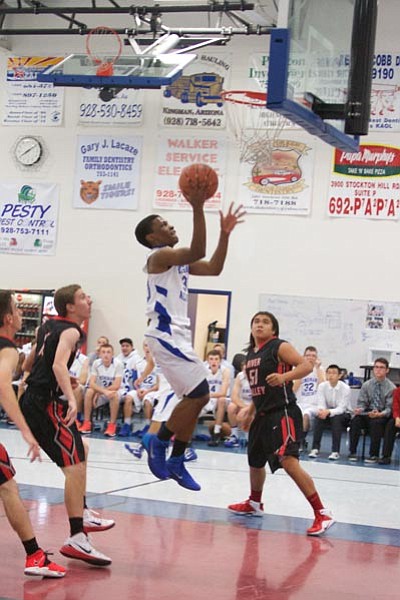 Originally Published: December 23, 2014 6 a.m.
KINGMAN - It appeared the Tigers put away San Pasqual Valley after a 24-10 opening quarter Friday in Winterhaven, Calif., but the Kingman Academy boys basketball team made it known emphatically it was all but over with a 23-8 second quarter on the way to a 76-34 win.
The No. 25 Division III Tigers shot 53 percent from the floor on 2-point field goals but a dismal 8 percent from behind the 3-point arc for a total of 45 percent against San Pasqual (1-5 D-IV).
Senior Breyden Potter registered a double-double for the Academy (5-1 D-III). He scored 16 points and grabbed 10 rebounds. Jeffry Chinyere led the Tigers with 17 points. He also had seven steals and six rebounds.
Chris Pfeiffer came one rebound shy of a double-double of his own, scoring 11 points and securing nine rebounds. Caleb Boyett finished with 10 points, and Robby Glass scored seven and had four steals.
Cade Martin also scored seven points, Jacob Corbridge finished with three, and T.J. Pena and Will Herbine each contributed two.
The Academy returns to action in the Colorado River Holiday Classic Jan. 2-3 hosted by Lee Williams and Kingman High Schools.