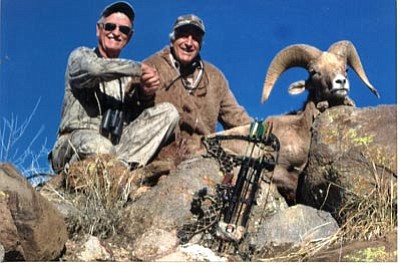 Originally Published: December 23, 2014 6:02 a.m.
Each year, it seems that my last guided hunt for the year is always a desert bighorn sheep hunt.
These hunts mark the end of a long fall season and several times these hunts didn't end for me and my clients on the last day of the year.
In the past 27 years, I have spent many Christmas Days in the field with hunters who also willingly gave up spending time with family and friends to be in the field searching for their rams.
The sheep season in most of the units in Region 3 is a month long, and for good reason: Sheep tags are hard to draw.
First of all, those who have drawn a sheep tag are immediately immersed in a real-life, high-stakes situation.
Drawing a sheep tag is something that most sportsmen will never do. The odds of drawing a sheep tag in Arizona are at best very small.
Success is less than one-half of 1 percent in most sheep units anywhere in Arizona, and some odds in the better sheep units are even worse than that.
So when I get a call to assist a sheep hunter in any unit, I book them for the entire month of December and with good reason. Weather issues are always a problem on sheep hunts.
December is a time of inclement weather in Mohave County and in the Black Mountains, where I typically guide and hunt.
I have seen the weather be so bad that you couldn't hunt sheep for days at a time. They get into caves, out of stormy wet weather, and sometimes will stay there for several days or until the storms pass. These weather events can and have lasted for up to five days.
I have had it snow on me on several sheep hunts. Once, when I was guiding a sheep hunter in 15C North near Willow Beach, it was snowing so hard they called out snow plows for Highway 93. (Remember, Willow Beach is one of the hottest places in the U.S. during the summer.)
On my own personal sheep hunt in Unit 15B East near Meadview, I had it snow two different times on me during that memorial hunt.
The year I had a sheep tag, I also spent Thanksgiving Day out there with only myself and my faithful black lab King looking for sheep while friends and family were at home sharing that special day.
I spent many nights sleeping in the back of my Toyota 4Runnr both before and during my hunt.
Sheep are a once-in-a-lifetime time hunts for most. I tell my sheep hunters that you don't really hunt rams - you experience them.
These hunts are in many ways almost mystical. Hunters know that they will never hunt sheep again and each day is a new and exciting experience.
In Arizona, sheep and buffalo are the only big game animals that, by regulation, you are only allowed one in a lifetime.
When you pull the trigger of a rifle, release that fatal arrow, or drop the hammer on a muzzleloader, you had better be able to look with satisfaction at that ram. For unless you are very rich, or very lucky, you'll never get another opportunity to harvest one.
Arizona does allow for sportsmen to take more than one ram, but the only way to get a tag without drawing it in the general draw is through a raffle or by bidding huge amounts of money to buy a special tag at auction. The most that a desert bighorn sheep tag has gone for in Arizona at auction is over $300,000.
I do know one Kingman resident who beat all the odds and won the Arizona sheep raffle. He took a gorgeous ram in Unit 15B West that scored almost 162 inches, which is the minimum to make the Arizona record book.
Then a couple of years later, he drew a Unit 15D tag and took a magnificent ram that scored 174 inches and made both the Arizona and prestigious Boone & Crockett record books.
Lucky guy, that Mr. Tom Blum.
Special events
For the average sportsman who draws a tag, having the opportunity to spend a month in the field searching for an old ram is time that may be needed.
Yes, some hunters will take a break for Christmas and go home. But they are rolling the dice when they do that. What if a major storm comes in after Christmas Day?
Then there are always the "special events" that somehow occur at the same time as sheep season.
I had one hunter who had scheduled eye surgery after the first five days of his hunt.
Another hunter told me after a week of hunting that we really needed to find a big ram and do it fast.
Seems as though his eldest daughter was getting married in mid-December and his wife was insisting he be home for that blessed event.
A couple of years ago, my out-of-state hunter started getting calls from his wife after a week. She was tired of playing Mr. Mom to their 12-year-old son, and that she wanted help planning the Christmas Day festivities.
Hunters and guides also have been known to get sick during the hunt.
One year, we had a hunter in 15B West, and I got sick about a week into the hunt and had to come home. My replacement, then-AWO head guide Larry Sallee, also got sick and actually ended up in the hospital. Then it was longtime AWO guide Dan Reed who got the call and took over.
Then Reed got sick and I was called back into service.
That hunter, Dan Nelson, never got so much as a sniffle on that hunt!
After Dan took his ram, I called on Fred Proudfoot and his son Mark, who actually came out from Kingman and help pack that ram off the mountain.
Just a few years ago, while on another long 15B West hunt where I was determined to show my hunter every ram in the unit, I got extremely ill.
Again the call went out to AWO guide Dan Reed, who had just finished up his on sheep hunt in Unit 15B East.
I ended up in the Kingman Emergency Room with a case of pneumonia, but I didn't go in until after we had checked in my hunter's ram at Region 3.
The bottom line is that when you have the responsibility of assisting a sheep hunter on what you know is probably their once-in-a-lifetime hunt, you really want to try and find that the best ram out there. And you don't want get into a hurry.
Unit, size matters
In Region 3, our sheep units have rams that are of different sizes, and the size of what can be called a trophy can and does vary depending on the unit.
Unit 15A East, which is now closed to sheep hunting, has traditionally been home to smallest scoring rams in this region.
The unit average was something like 117 inches, so taking a ram there that scored in the 130s was truly a trophy sheep.
However, Unit 15D, which is located between Highway 68 on the north and I-40 on the south, has been producing some huge rams in the past few years, and many veteran guides and hunters will tell you that taking a ram there that scores less than 150 inches is a ram that you should have probably passed.
Bottom line: Most sheep hunts are tough and exciting outdoor adventures for both hunter and their guides or others who assist them.
I'll be home for Christmas this year!
This year I got extremely fortunate when my sheep hunter took a great old ram after only six days in the field. I'll share that story with you next week.
That means I'll be spending Christmas Day with family and friends, something I haven't done in a while.
With that, I hope that you and your family have a Merry Christmas and that you are blessed with drawing the tag of a lifetime in 2015.