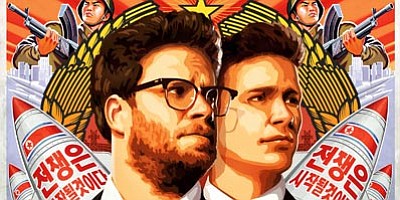 Originally Published: December 23, 2014 11:17 a.m.
KINGMAN - For those moviegoers looking to watch "The Interview": Merry Christmas, from Sony.
Select theaters in the United States will screen the controversial film on Christmas Day. The film, starring Seth Rogen and James Franco, features the duo traveling to North Korea as part of a plot to assassinate Kim Jong Un.
A group with alleged ties to North Korea recently hacked Sony Pictures in response to the film, threatening to attack theaters in the United States if the film was released. Theater chains started pulling the film before Sony canceled the release, which sparked a debate over freedom of speech and giving in to the demands of regimes like North Korea.
Theaters, including the Alamo Drafthouse in Texas, have been given the green light from Sony to screen the film, but as of Tuesday morning no major chains have picked up the film.
Rumored plans of an online video-on-demand release from Sony are also unconfirmed.
Brenden Theaters in Kingman was scheduled to get the comedy from Sony before the hacking attempt, and theater co-owner Tom Daugherty discussed what went into the decision not to run it.
"I have a booking agency in Los Angeles. They know all the tracking and ratings. We give them input on what customers want here. We find that family films and religious films do better in Kingman than restricted movies," said Daugherty.
"The Interview" carries a restricted rating.
Regardless, Brenden Theaters was set to carry the film on Christmas Day. Part of the reason had to do with the lack of family films for Christmas, with films such as "Into The Woods" initially scheduled for a limited release. Because the theater is a four-screen, getting different kinds of films here helps bring more people to the box office.
"Seth Rogen comedies do OK here. We try to give all our moviegoers variety."
When the larger theater chains such as Regal and AMC pulled the film on their end, Brenden Theaters in Kingman was still set to get the film. Sony pulled the film shortly afterward, and Daugherty's booking agency was able to secure "Into The Woods" for Christmas instead.
That doesn't mean that "The Interview" won't come out in Kingman. The film is available for booking, according to Daugherty. The theater is currently booked with four movies through Christmas.
"We'll certainly take a look over the next couple of weeks," said Daugherty. "If people are requesting films, we will try to get them in."