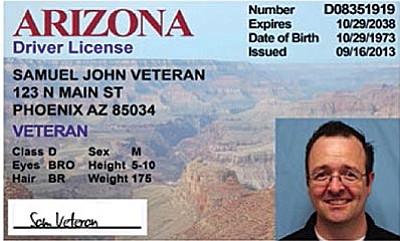 Originally Published: December 25, 2014 6:02 a.m.
KINGMAN - The undocumented immigrants who won the legal right to obtain an Arizona driver's license will be able to drive legally, but they won't be able to vote, according to Tim Tate, the assistant director of communications at the Arizona Department of Transportation.
"Their licenses will look just like everybody else's license, but when their information is put into the computer at the MVD it will be coded differently so they are not on the voter registration rolls," said Tate.
Another key difference is the time period in which the licenses are valid, said Tate.
While most citizens' licenses don't expire for years in Arizona, the young undocumented immigrants' licenses will expire at the same time as their immigration status, which is in two to three years for most of them.
A U.S. District Court shot down a state law barring recipients of the Deferred Action for Childhood Arrivals (DACA) from getting a driver's license earlier this month and Gov. Jan Brewer opted not to appeal the decision.
Recipients headed to the closest MVD office on Monday.
About 22,000 DACA recipients in Arizona are eligible to obtain a license, something they were already allowed to do in 48 other states. Those recipients between the ages of 16 and 39, who have grown up in the U.S. and are authorized to live and work in the country, can get a license, according to ADOT.
Like all people who have never before obtained an Arizona driver's license, DACA recipients must show two forms of identification and pass written and on-the-road tests before a license will be issued, and they must pay the same $25 fee as citizens.
This is not new ground in Arizona. Non-citizens with the authority to work in the state have long been allowed to obtain a license.
And voting is far from the only thing DACA recipients won't be able to do. The ability to obtain a driver's license will not make them eligible for health care or other public benefits, according to the National Immigration Law Center.
DACA recipients are considered "lawfully present" in the U.S., but that does not grant them the same rights and privileges as citizens.
This means they are generally not eligible for the Supplemental Nutrition Assistance Program, formerly known as food stamps; Temporary Assistance for Needy Families, formerly known as welfare; supplemental security income; or the Children's Health Insurance Program.
President Barack Obama specifically excluded DACA recipients and others who have obtained deferred immigration status from participating in the Affordable Health Care Act, including subsidies. They are eligible for emergency services provided through Medicaid.