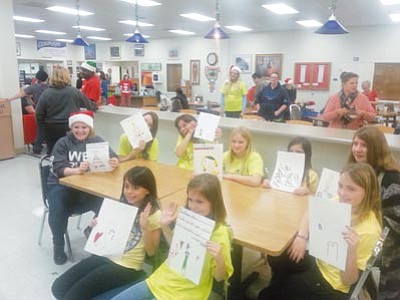 Originally Published: December 25, 2014 6 a.m.
American Legion Post: We wish everyone the happiest of Christmases, and we ask that you please remember our active duty military in your prayers this holiday season. The post will be closed on New Year's Day. Our next breakfast will be prepared by the Legion Riders. Members and guests, please note it will be a brunch buffet served from 10 a.m. to 1 p.m. Jan. 4, for a requested donation of $6 per person. A reminder for members who have not yet renewed for 2015: your card expires on Dec. 31, and you will no longer be a member in good standing. Renew as soon as you can, and the easiest way to do that is to go on-line to www.legion.org and click the yellow "renew" block at the top left of the screen. While you're there, check out what your National Headquarters is doing for our organization. Post 14 is on the corner of Third and Oak in old town Kingman; call us at (928) 753-3555.
Belles of St. Mary's: We all have our own family rituals at this time of the year, but consider these: a request was forwarded to the employees of SHEA Homes in Scottsdale, quick as a wink (four days) over 505 pairs of socks were on their way to Kingman's neediest guys and gals! These socks were originally gathered by the Hillsten newlyweds, transferred over to an F250 hauling a classic 1955 Chevy pickup bound for home after a bit of a face-lifting and botox treatment. All this amongst the hustle and bustle of their own Christmas preparations. Another example: one of the Belles officers was ready, got set, but did not "go" until her mister's shift was done on the sandwiches made for the "Our Daily Bread" crew. How many times have we all thoughtlessly hurried on to our own goals, counting on "others" to minister to God's poor? The angels assigned to these people will surely stand proud as our Lord acknowledges these kind deeds!
Next week we will recount the adventures of putting up the new 12 foot Christmas tree for our new house of worship ... but for now, let us all remember the persecuted peoples of the Middle East - we must pray and help monetarily - a chance to put our money where our mouth is.
Brunch Bunch Motorcycle Riders: The Brunch Bunch has no dues, no officers, no paperwork, no egos - we just ride and have fun with like-minded friends. Meet at I-40 Exit 48 Chevron, 777 W. Beale St. at 9:30 a.m. Sunday. Kickstands up at 10 a.m. This week's Wednesday ride is to Oriole's Mexican Restaurant in Bullhead City. For questions or information, contact Harley at (928) 530-2555.
Kingman Quilters Guild: 9 a.m. every Wednesday at the College Park Baptist Church, 1990 Jagerson Ave. The cost is $1 and the meetings are open to the public. We sew and quilt during this time. For more information, contact Shirley Johnson at (928) 757-8703.
Kingman Tennis Club: We have evening walk-in tennis at 5 p.m. on Mondays and Wednesdays. Morning walk-in tennis is at 9 a.m.Saturdays. We meet at the tennis courts in Centennial Park. The cost is $2 for members and $3 for non-members. Wear tennis shoes and bring a racquet. Our club provides the tennis balls and pays the court fees. We will place you in a doubles match based on your skill level. Beginners are welcome and we will assign someone to help you get started. For more information, contact Brooke Fix at (928) 753-5684.
Kingman Pinochle Club: The winners for this week were: first, Warren Knudson; second, Joann Brown; and third, Jan Crosier. For more information on the Kingman Pinochle Club, contact Pat at (928) 718-1253.
Mohave Roaming Sams Club: Our chapter members (past and present) enjoyed a delicious Christmas feast at the Hualapai Mountain Lodge. We celebrated with 24 members and past members and a fantastic menu in our favorite room off of the main dining area. We talked, laughed, and ate and we were glad to see all those able to join in the festive fun. After our meal we dealt with a little chapter business. Arno Gates helped out with the installation of our officers for 2015. We are glad for everyone's participation and willingness to help with chapter business. We have special thanks to Jeannie Pferdehirt for organizing this years' Christmas event. Thank you, Jeannie for a job well done.
And speaking of organizing, we have great plans for 2015. Our chapter anticipates some really enjoyable outings in beautiful Arizona. In January, we will be camping in Brenda,. For those of you who might not know, that is a small community near Quartzsite. Our plans include some great UTV riding and possibly a trip or two into Quartzsite to visit the Big Tent and surrounding sales areas. If you haven't been to Quartzsite during Big Tent time, it's definitely worth a trip. If you enjoy RVing and being part of a congenial group, get in touch with us. We welcome visitors to all of our campouts and other activities.
The Mohave Roaming Sams Chapter is a part of the International Good Sam Club, and is dedicated to the promotion and enhancement of the RV lifestyle. If you are interested in finding out more about our chapter and this campout, contact Jim Burtrum at (928) 757-8072.
Rescued Unwanted Furry Friends Foundation (RUFFF): We are seeking volunteers to assist with the daily care of the animals at our sanctuary in Golden Valley. This includes cleaning, watering, feeding, brushing and playtime. If you have even two hours to spare, RUFFF needs you. Call (928) 565-BARK (2275) for more information on becoming a volunteer. RUFFF has many wonderful dogs and cats looking for forever homes. If you have room in your home for a furry friend, adoptions are held daily by appointment. We have many, many medium- to large-breed dogs, of all ages, that would love to be a part of your family. There are lots of nice kitties, too.
Teamster Retirees and Associates: The group meets the first Wednesday of each month at 302 Monroe St. (Moose Lodge) in Kingman. Friendly people, good conversation and food. For more information, call (928) 692-1071.
Thursday Party Bridge: The winners for Dec. 18 were: first, Yolanda Metcalfe; second, Lois Cantrell; and third, Gladys Smith.
Wednesday Party Bridge: The winners for Dec. 17 were: first, Gladys Smith; second, Nelson Gaska; and third, Carolyn Johnston.
Whistle Stop Railroad Club: The club's membership invites the community to visit the Kingman Railroad Museum this holiday season. Come see our lighted Christmas train on the exterior walkway and the holiday-themed details we've added to the model railroad layouts. Please note that the museum will be closed on Christmas. We will reopen Friday and be open on the weekend, Dec. 26 through 28. Bring your out-of-town visitors to see the museum's displays, including operating model railroad layouts in N-gauge, HO gauge, and Lionel (O-gauge). The museum is located in the restored Santa Fe Depot at 402 Andy Devine Avenue and is open from 9 a.m. to 5 p.m. We invite anyone with an interest in railroad history or model railroading to join us at our next meeting at 9 a.m. Jan. 3 at the museum. For more information, please call the museum at 718-1440, visit our website www.whistlestoprailroadclub.org or see us on Facebook.