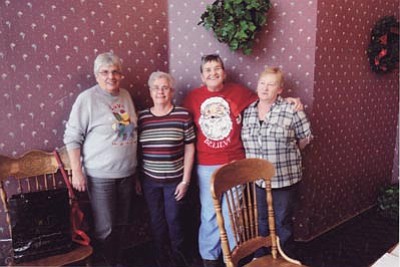 Originally Published: December 25, 2014 6 a.m.
KINGMAN - The Democratic Women's Club held their last meeting of 2014 by honoring the outgoing President Carol Decker-Noli.
Decker-Noli, in conjunction with the city of Kingman and the Mohave County Democratic Committee, was the driving force for the new flagpole at Metcalfe Park. She organized food and clothing drives for the food bank, St. Vincent de Paul and other organizations. Carol was also a candidate for City Council in the previous election.
The Club presented Carol with a Christmas Cactus and card thanking her for all her efforts to improve quality of life for everyone.
The Democratic Women's Club at this meeting installed new officers for the coming year.
Pictured above, they are Secretary Theresa Evans, Treasurer Marietta Green, President Marty Luna-Wolfe and Vice-President Deni Cochran. The new officers are united in their efforts to continue involvement in various projects in and for the Kingman area and to help our club grow.
The members celebrated Christmas with our annual party, passing out secret Santa gifts with lots of laughter and good will. A good time was had by all.
On behalf of the Democratic Women's Club we wish you a merry and joyous Christmas, a blessed Hanukkah and a happy and prosperous New Year.