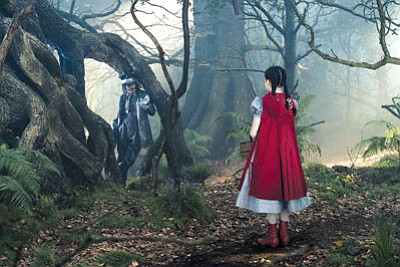 Originally Published: December 28, 2014 6 a.m.
I'm not a fan of musicals. Give me shoot 'em ups, car chases or just scare the heck out of me. And none of that happens in "Into the Woods," which turns out to be a clever way of finding a common thread amongst several well known children's tales: Cinderella, Little Red Riding Hood, Jack and the Beanstalk (OK, not so much) and Rapunzel.
There's a lot of singing and it jumps from Cinderella (played by Anna Kendrick) to Little Red Riding Hood (played by Lilla Crawford) and Jack pre-beanstalk (played by Daniel Huttlestone). The tunes are basically laying the foundation of how each characters' lives are in turmoil. Enter the Baker and his wife (played by James Corden and Emily Blunt), who have been trying to have a child with no success.
A witch (Meryl Streep) bursts into the bakery to explain she put a curse on the Baker's family to keep them childless because the Baker's father had stolen goods, including beans, out of the witch's garden. In order to lift the curse, the Baker must acquire a little something from each of the four main children's stories.
The movie jumps back to Cinderella, Red Riding Hood, Jack and even Rapunzel. Red Riding Hood encounters a wolf (Johnny Depp), Jack runs into the Baker who gave him magical beans for his cow and Cinderella makes a wish at her mother's grave. All four stories end up in the woods where the characters interact and the Baker tries to get a little something from each of them.
The witch appears sporadically throughout the characters' journeys just as the characters seem to be faltering in their quests. The witch has an ulterior motive for gathering all the items. Once the items are gathered the Baker's wife almost instantly gives birth and the witch gets what she wants. End of story? Not quite. The movie flowed smoothly, the singing was good and it was easy to follow the plot. The film is rated PG and runs a little over two hours. One daughter loved it, the other daughter hated it. I'd give it three out of four Miners.