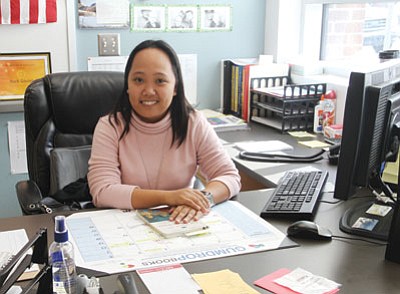 Originally Published: December 28, 2014 6 a.m.
KINGMAN - To Anna Lou Cabato, moving from the Philippines to Kingman recently with six other Filipino teachers as part of an international exchange program is a win-win situation.
Not only will students in the Kingman Unified School District get a chance to experience a foreign culture and observe various teaching styles during the three-year stint, the educators can take back to their country what they've learned about teaching strategies and techniques in the U.S., as well as its customs and cultures.
On top of that, KUSD has been able to fill seven open positions at a time when teachers are hard to find in the U.S. and prefer states other than Arizona. According to a recent Arizona Department of Education report, factors negatively impacting teacher hiring and retention statewide are low pay, lack of professional support, inadequate teaching materials, little community support and respect, and negative school climate.
Cabato, who is married and has a 15-year-old son, has been teaching for eight years, the last four of them at Baquilan Resettlement School, which has about 700 students, in the Philippines. The area is populated by hundreds of families from the minority Aeta people group, who were displaced during the volcanic eruption of Mt. Pinatubo in 1991.
Their rural school located behind a mountain is very poor, said Cabato, with small rooms, a limited amount of books and no pencils or paper. It has no computers or Internet connection. About 80 percent of the children attending do not complete their educations because they must work in the fields to raise money for their family's food.
"I want to bring back what I've learned and give them a foundation to prepare them for the world," said Cabato, who will teach kindergarten at Black Mountain School. "I love them and will tell them that I want them to finish their studies. I want them to get out of poverty and become teachers, doctors or other professionals. I want them to see that education is the key to everything."
Cabato, 37, and the other teachers are participating in a program through International Teacher Exchange Services, which is located in Charlotte, N.C., and authorized by the U.S. Department of State. ITES assists overseas teachers with the process and paperwork involved in exchange teaching in U.S. school districts, which pay their salaries.
Six of the teachers arrived in Kingman in December and spent a week observing substitute teachers who have been teaching since the start of the school year. They take over their classrooms on Jan. 5.
The seventh teacher will be here in January and will start teaching after observing a classroom for a week.
The teachers are Cabato; Vilma Amo, sixth grade, Black Mountain; Conan Gavan, special education, Kingman Middle School; Roda Mongen, biology, and Roderick Francisco, math, Kingman High School; and Renely Casera, special education, and Alejandro Dogma, biology, Lee Williams High School.
Openings remain
KUSD Superintendent Roger Jacks has seen the teacher shortage firsthand in his own district, where 6,922 students are receiving an education from about 350 teachers in 12 schools. Of those teachers, 70 were hired at the beginning of the school year, mostly from out of state. Five teaching positions still remain open at KUSD.
Teachers are on the battle lines, said Jacks, and must deal with high levels of stress, long days, bad behavior from students and low pay. They easily could go into other professions and make more money, especially in STEM courses, which are the state's core educational disciplines of science, technology, engineering and mathematics.
Jacks said he got the idea to look overseas for replacement teachers from school superintendents in area districts, who successfully used ITES to recruit overseas teachers. Jacks also hired five Filipino teachers in about 2005 when he was a high school principal in the Clark County School District. The recruiting process at KUSD began in early October.
"We just couldn't go all year with math and science positions open," said Jacks. "We were in a situation where we had to look for an alternative way to get qualified teachers in the classroom. We worked long and hard to make sure they were every bit as qualified as any teachers we could get in the U.S. or we wouldn't go there."
Numerous school districts across the country have turned to international recruiting to fill jobs, get bilingual teachers and help expose students to diverse cultures, say education organizations. The Arizona Department of Education was not able to say last week how many teachers are here from overseas. A spokeswoman said the department's system "does not allow us to track teachers coming in from out of country to teach full-time."
Renely Casera, 32, who taught for seven years in Manilla before coming here to teach special education at Lee Williams High School, said she already is amazed at the difference between what students are learning here and in the Philippines. This is the first time Casera, who is single and lives with her parents, has traveled to the U.S.
Cultures clash
When she first arrived, Casera immediately could see the difference between the cultures of the two countries. In Manilla, people are focused on what they need to do and rarely stop to exchange pleasantries. But in the U.S., they often pause to greet each other and ask questions about their lives, which Casera found overwhelming at first.
She is hoping to take back to Manilla new and improved teaching strategies, as well as techniques for proper class management. Casera said the biggest thing she has learned so far is how independent the students - and the population in general - are in the U.S.
"I'm meeting new friends, being part of a new environment and I'm learning new things, like how children should strive to be independent," said Casera. "I've encountered a student who is working towards taking care of himself, even though he has disabilities. He wants to know how he can be a help to society instead of a hindrance."
Roderick Francisco, a 41-year-old math teacher at Kingman High School, came here to be inspired in his own school back home in Caloocan City. Francisco, who is married and has a son, has been teaching for 18 years and participated in a teacher exchange in Wichita, Kan., from 2007 to 2010.
"There have been a lot of changes since I was here before and I want to be equipped with the newest strategies from the U.S., such as technology and how to deal with different types of learners," said Francisco. "My school back home has technology but it hasn't been updated yet. And I want to learn how to inspire my students so they don't get bored with their lessons."
Click for home delivery with comics, grocery deals, inserts, TV listings, coupons and more