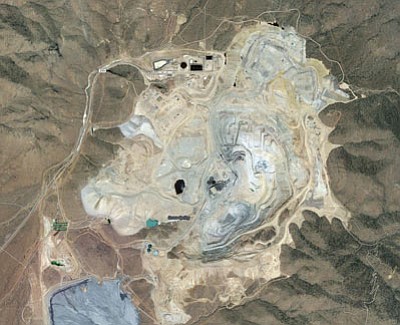 Originally Published: December 30, 2014 6 a.m.
CHLORIDE - Bankrupt Mineral Park mine shut down operations Monday and some 400 to 500 workers were laid off just a few days after Christmas, an employee told the Daily Miner.
Phone calls to Vancouver, B.C.-based Mercator Minerals, parent company of Mineral Park Inc., were not returned.
Mineral Park, which is located about 15 miles north of Kingman east of U.S. 93, had been operating under Chapter 11 bankruptcy reorganization since August. The mine cut 10 percent of its workforce last year after missing deadlines on $4.8 million in payments.
In September, U.S. Bankruptcy Court for the District of Delaware ordered Mineral Park to set up a separate account of $1.04 million to continue utility service. That's roughly half of the mine's monthly utility bills, which include $1.3 million paid to BP Energy for natural gas, $503,299 to Unisource for mine site power and $103,805 to Pioneer Valley Water Co. for water.
Mineral Park is "too good of a mine to go down all the way," a former mining executive told the Daily Miner on background. Somebody will bring the mine out of bankruptcy, he predicted.
The mining industry has suffered from depressed mineral prices and lack of financing. Copper prices dropped to $1.93 a pound on Monday, down nearly $1 from a week ago. That drives down profitability and makes investors unwilling to take a risk.
Mercator had been trying to reach an agreement with a syndicate of lenders and actively considering alternatives, including selling the company. The board of directors received several proposals that would be in the best interest of shareholders.
"Unfortunately, the MPI (Mineral Park) lenders did not constructively engage with the company or our financial advisor," Mercator Chief Executive Officer Bruce McLeod said in an Aug. 26 statement.
Mercator Minerals stock fell to 3 cents a share on the TSX (Toronto Stock Exchange) before trading was suspended in August. McLeod and the board of directors at Mercator resigned in early September.
Mineral Park is an open-pit copper mine with an estimated 20-year life.
The mine has a high metallurgical recovery rate of 82 percent for copper and 80 percent for molybdenum. In 2013, it produced 81.2 million pounds of copper equivalent, which consists of 37.5 million pounds of copper, 9.4 million pounds of molybdenum and 544,000 ounces of silver.
Mineral Park started copper production under the Duval Corp. in 1963, producing 12,000 tons of ore a day. The mine was acquired by Cyprus Mining Co. in 1986 and by Equatorial Mining of Australia in 1997.
Mercator purchased the mine in 2003.