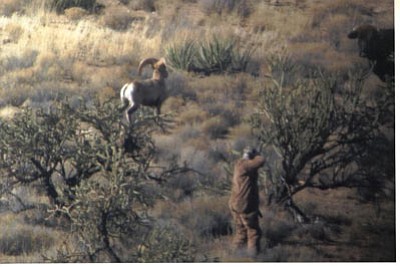 Originally Published: December 30, 2014 6:02 a.m.
By now you have probably figured out that hunting desert bighorn sheep is one of my real passions.
I've been hunting sheep in Mohave County since 1987, when I drew tag 4 out of the four that were issued for Units 15A-B East.
I was fortunate in that my perseverance paid off when I took a ram that is still the oldest ram ever taken in those units and is the second-largest ram that has ever been taken there. The old ram scored 153-7/8 inches.
After that adventure, I got a guide's license and have been hunting sheep ever since.
Over the years, I have hunted in just about every sheep unit in northwestern Arizona.
I'm proud of the fact that my guide service, Arizona Wildlife Outfitters, has guided more sheep hunts in Units 15A-B East than any other guide service in the state.
The reason is simple. No other guides want to assist hunters in these units, as the sheep there are, for the most part, very small.
I found that you have to hunt just as hard as in any other unit to find a trophy ram. And finding a trophy in those units is not easy. Tough, yes, but I have enjoyed the hunts there.
A couple of years ago, Golden Valley resident and former fellow guide Dan Reed assisted a hunter from Scottsdale on his sheep hunt in Units 15A-B East.
Our hunter, Sal Carlomagno, was a bow hunter and really wanted to take a ram with his bow.
These units are not really conducive to hunting rams using archery, and if memory serves me correctly, there never had been a ram taken in these units by a bow hunter.
So Dan and Sal had their work cut out for them.
Sheep numbers in that unit have dwindled from the 1980s, when one could expect to see well over 100 sheep on a hunt.
That was normal when up to four tags were issued to hunters.
Fast forward to 2012, when just one sheep tag was issued, and that tag holder was Carlomagno.
For a couple of weeks, Reed and his hunter hiked all over the mountains, from Meadview to Temple Bar.
They found just one group of five sheep and with them was a young ram than Reed estimated would only score about 115 inches.
Things were looking dismal for sure, but then they got a break.
A ram that had just appeared in an area about 30 miles east of Kingman on the north side of I-40 for several years had been seen in and around groups of cattle that were out there.
No one at Arizona Game and Fish in Region 3 knew where this ram had come from, but there was a real concern that the ram, because he had been seen by so many people, was going to be poached.
There was also concern that this ram could contract some disease, then move back to a known sheep area and spread the disease.
It was not something that the region's game specialist and biologists wanted to happen.
So it was decided that Reed and Carlomagno would look for this ram, and if located, would try and take him with a bow.
As it turned out, I was out there looking with some friends from California who were archery deer hunting when the sheep was located.
It was a long day, but it ended when Carlomagno arrowed the ram at 31 yards while I watched and photographed the event from a mesa about a half-mile away.
That 4½-year-old ram scored in the 140s - and the next year, Game and Fish closed the unit to sheep hunting due to a decline in sheep numbers.
Hunting a different unit
For the past few years, I've hunted almost exclusively in Unit 15B West, which is another unit that doesn't produce high-scoring rams.
The unit's boundary is the Temple Bar Road off of Highway 93, all the way to Hoover Dam on the northeast side of Highway 93.
This unit can be an extremely tough unit to hunt.
The numbers of sheep as surveyed by the Game and Fish Department have been declining slightly over the past few years, but it is the lack of older rams that is discouraging.
Game and Fish has said they have not seen a Class 4 ram (a ram that is 8-plus years old) in this unit for a number of years. And in 2014, only two Class 3 rams (a ram that is between 6-8 years old) had been seen on the aerial survey conducted in October.
Those older rams are the ones that a hunter, in my opinion, should target.
This year I had the opportunity to hunt with Tucson resident Jonathan Lang on his once-in-a-lifetime hunt.
One of Jonathan's friends had hunted there 17 years ago, and that was the reason Lang put in for one of the three tags offered.
Mother Nature steps in
After a couple of days of good weather, a major storm came in that produced rain, high wind and lots of fog.
Fog is not your friend when you are trying to find sheep.
Lang saw two rams on opening day and 10 on day two, but nothing was mature enough to interest us.
It was Friday afternoon, the fifth day of the hunt, when I located a band of rams almost three miles away near the top of a major ridge.
Using high-quality spotting scopes, it looked like there might be two rams in that band that would warrant a closer look.
The only way to tell for sure required us to make a long hike to get closer to the sheep.
We watched the sheep until close to dark and then headed back to camp.
Saturday morning, Lang, myself and friends Mike Samer of Mesa and Laura Borden of Golden Valley set out to find the ram band, while Kingman residents Johnnie Hoeft and Gary MacGregor, along with Ryan Borden, watched the action from below with the spotting scopes.
It was a four-hour hike along narrow sheep trails before we got to the area where the sheep had last been seen.
I started glassing and found a couple of bedded sheep, and Lang and I slowly worked out way to the edge of a rim for a look below.
Our efforts were rewarded when we found there were 11 rams and seven ewes in this group and they were feeding between 150 and 200 yards away.
We watched the sheep for a long time, evaluating each ram in the group. It wasn't until the last ram came out that things got very serious.
This ram was the obvious leader of this group. He was the oldest ram we had seen during the hunt and had all of the characteristics of a ram that had lived in these rugged mountains for a long time.
Lang told me that he was sure he wanted this ram, and got set up for a shot.
The ram was 180 yards and feeding when Lang fired the first shot out of his Remington rifle in 7 mm magnum caliber.
The shot missed, but the ram didn't know what had happened and slowly moved out into the open to look around.
The second shot was right on the mark, and Lang's ram was quickly down and out.
It was late in the afternoon before we had finished taking photos and had the ram field dressed and ready to pack off the mountain.
After breaking camp, we headed to Region 3 headquarters where the sheep was checked in as required by law.
The ram was aged by Game Specialist Erin Butler at 7.5 years old, and scored 154-7/8 gross and 154-2/8 net.