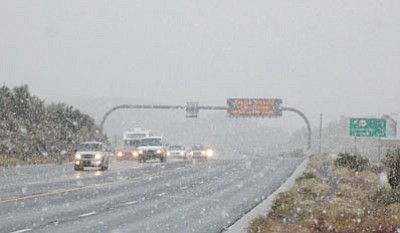 Originally Published: December 30, 2014 6 a.m.
KINGMAN - Temperatures will plunge below freezing nearly every day for the next two weeks, with the possibility of snow on Wednesday, when the high is not expected to creep past 32 degrees Fahrenheit, according to www.accuweather.com.
Today's low was pegged at 27 degrees with a high of 41, while Wednesday's low is expected to drop down to 24.
Things will get much colder beginning Thursday, with a low of 14 and a high of 34. Friday won't be any warmer, with a low of 14 and a high of 35.
The cold is expected to stick around until the middle of January, and that means people need to take precautions not only to stay warm, but also to keep the water flowing through the pipes.
"There are a number of steps people can take to prevent freezing and busted pipes," said Pat Yarush, supervisor at TrueLove Plumbing in Kingman.
Local hardware stores carry inexpensive pipe wrapping material that can be used to cover exposed pipes both outside and inside in attics, he said. Hose bibs should be covered and hoses disconnected from faucets.
Those with irrigation systems should make sure they have insulation in the irrigation box.
"If all you have is batten insulation, put it in a plastic bag so it doesn't get wet," said Yarush.
Pipes located in attics above the insulation level can be covered, particularly the ones close to attic vents.
"The wind chill can make for a quick freeze for an extended period of time," said Yarush. "When the temperature gets down in the teens, it's not a bad idea to keep a faucet dripping. People don't want to waste water, I understand that, but what's worse for wasting water - a flood or a dripping faucet?"
Yarush said people who have wells can put a small heater with a thermostat in the well house to keep the water moving through piping and commercial property owners should ensure their backflow preventers are properly insulated.
People who own or manage vacant buildings are encouraged to heat them to at least 60 degrees Fahrenheit to keep pipes in walls from freezing, since that could mean burst pipes that heavily damage the property and put a serious dent in the owner's cash supply.
"We've had some pretty extensive freezes the past few years," Yarush said, and the average tract homes built in the city are not constructed with prolonged freezing temperatures in mind. "It's good to be prepared."