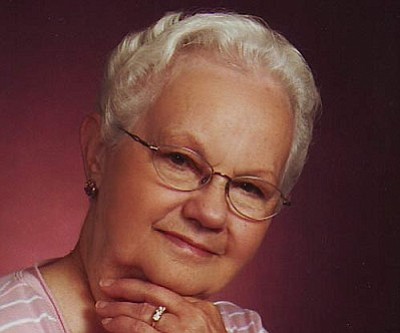 Originally Published: February 7, 2014 6 a.m.
Marjorie W. Dudley, 81, of Kingman passed away on Jan. 30, 2014. She was born to Joseph and Vera Woodward on Feb. 12, 1931, in Augusta, Maine.
Marjorie was a high school graduate and was a purchase agent for the state of Maine. She also attended Manzanita Baptist Church.
Marjorie is survived by her son, Donald B. Dudley Jr., of Johnstown, Pa.; daughter, Deborah S. Dudley, of Kingman; and son, Dannie L. Dudley of Altamont, N.Y.; three grandchildren; and two great-grandchildren.
Marjorie is preceded in death by her husband, Donald B. Dudley Sr.
A celebration of life will be held at Manzanita Baptist Church, 2040 Golden Gate Ave. in Kingman, at 3 p.m. Feb. 21, 2014. A burial for Marjorie will be held in the spring of 2014 in Augusta, Maine. In lieu of flowers, donations can be sent to Joan and Diana Hospice Home, Manzanita Baptist Church or a charity of your choice.
More like this story