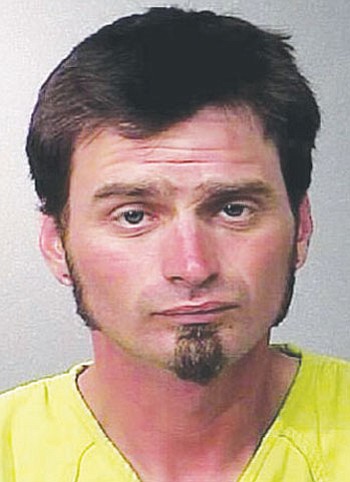 Originally Published: February 9, 2014 6 a.m.
KINGMAN - A jury acquitted Philip Steven Matwyuk in two of the three most serious charges he faced, but found him guilty of 10 other charges Friday in Mohave County Superior Court.
Jurors did not find the 31-year-old guilty of attempted first-degree murder in the June 2, 2012, stabbings of a former girlfriend and her sister, but they did convict him of the same charge regarding victim Michael Hennings, whom Matwyuk stabbed several times as the man lay sleeping.
Judge Steven Conn told Matwyuk he will have "extraordinary discretion" when he sentences him March 7, telling the man he could receive between seven and 53 years in prison.
Matwyuk sat with his head bowed while the verdicts were read. Family members sat grim-faced behind him.
Victims Alicia Dena and Kayla Gisewhite sat across the aisle and held hands.
Matwyuk stabbed the two sisters and Hennings multiple times, but the injuries to the women were relatively minor compared to those sustained by Hennings, and perhaps didn't rise in jurors' minds to the level of premeditated attempted murder.
However, jurors agreed that Matwyuk inflicted injuries on three of his victim, and threatened to harm a babysitter who was in the home at the time of the incident.
The violent crime occurred at about 7:15 a.m. after Matwyuk's relationship with Dena ended badly about two weeks earlier.
A number of incidents took place in the days leading up to the attack. Matwyuk told deputies he "lost it" when he saw Dena, now 31, with Hennings. He said he used the knife to defend himself when he was attacked, but jurors apparently believed the victims, who said he grabbed a knife from the kitchen while everybody slept and attacked Hennings without warning. He then stabbed Dena, inflicting several wounds including one to the back of her head.
Dena's screams woke her sister, who was in her own bedroom. Gisewhite, then 22, came to her sister's defense and also was stabbed a number of times.
Matwyuk then approached a babysitter as she used the house phone to call 911.
The call was interrupted when the girl threw the telephone at Matwyuk as he came at her. He fled out the back door and hid in the desert until later in the day when he surrendered to Kingman police officers at a local truck stop.
In addition to finding Matwyuk guilty in the attempted first-degree murder of Hennings, jurors convicted him of eight counts of aggravated assault - two of them misdemeanors - and a count of burglary.
A visibly upset Gisewhite declined to comment following the verdict. The sisters thanked prosecutor James Schoppmann in the courthouse lobby, surrounded by supporters.
Meanwhile, Matwyuk's relatives quietly left the courthouse.
Click for home delivery with comics, grocery deals, inserts, TV listings, coupons and more