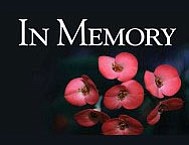 Originally Published: February 11, 2014 6 a.m.
Ann I. (Nancy) Getz of Kingman passed away peacefully on Thursday, Feb. 6, 2014, at Helen's Place Assisted Living Home.
She was 88 years old.
She was born to Leon and Ann Irwin on Nov. 4, 1925, in Burlington, N.J. Nancy attended St. Paul's Parochial grade school and graduated from Burlington City High School in 1942.
She married John J. Getz on May 1, 1954, and they spent 53 years together until John's passing in 2007. She was a parishioner of St. Paul's Catholic Church and an active member in the Young at Hearts in Burlington, N.J.
She worked as a bookkeeper for her father's business, John H. Irwin and Son Plumbing and Heating, for many years.
Nancy relocated to Kingman in 2011 and became a member of St. Mary's Roman Catholic Church. She resided at Helen's Place and became one of the family and enjoyed being with her friends Betty and David as well as giving her "special" caretakers - Chris, Lisa, Howard and Lou (all whom she adored) - many days of laughter with the constant question of, "Why?"
Nancy is survived by her two children: Ann Marie Grant of Kingman and Dr. John J. Getz Jr. of Greensville, N.C. and Largo, Florida; along with four nephews; many cousins; and family friend Tianshiuan Lii. She was preceded in death by her parents, her husband and her sister, Mary Fox.
Rosary and mass will be held at St. Mary's Catholic Church in Kingman at 9:30 a.m. Thursday, Feb. 13, 2014. In lieu of flowers, the family is requesting that donations be made to St. Jude's Children's Hospital. Services will be held in New Jersey for family and friends in June.
Thoughts and condolences may be submitted to the family at www.lietz-frazefuneralhome.com.
Arrangements were placed under the care of Lietz-Fraze Funeral Home and Crematory.