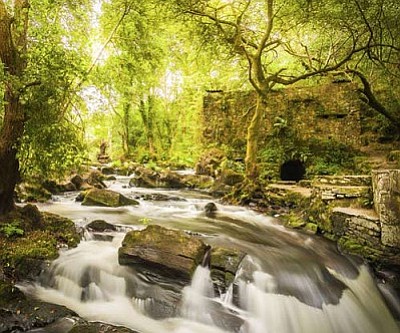 Originally Published: February 21, 2014 6:01 a.m.
The impure then cannot love God; and those who are without love of God, cannot really be pure." Thus preached Blessed John Cardinal Henry Newman in 1849.
"Blessed are the pure of heart, for they shall see God" (Matthew 5:8).
This beatitude is the only one among the eight we find in chapter 5 of the Gospel of Jesus according to St. Matthew, which promises the Beatific Vision of God.
The pure of heart are like little children. Little children focus on learning about life. They entertain themselves with thousands of creative images.
Unlike the adult man or woman, they think pure thoughts. They are virgins in conscience, soul and body.
Jesus is very clear in defending the purity and virginity of little children.
"And calling to Him a child, Jesus put him in the midst of them, and said: 'Truly I say to you, unless you turn and become like little children, you will never enter the kingdom of heaven. Whoever humbles himself like this child, he is the greatest in the Kingdom of Heaven." (Matthew 18:2-4)
In this same chapter 18, Jesus lances His doctrine with piercing words: "Whoever receives one such child in my name receives me; but whoever causes one of these little ones who believe in me to sin, it would be better for him to have a great millstone fastened round his neck and to be drowned in the depth of the sea. Woe to the world for temptations to sin. For is necessary that temptations come, but woe to the man by whom temptations come!"
In chapter 7, verse 6 of the Gospel of Jesus according to St. Matthew, Jesus admonishes: "Do not give to dogs what is holy; and do not throw your pearls before swine, lest they trample them under foot and turn to attack you."
What is holy is our virginity. The pearls of a holy, virginal life are chastity and a clean conscience with total love of God.
How many youth so unfortunately hasten to lose their virginity, as though virginity were a vice or virus? Yet, the impure of heart cannot see God. They have no love. (I paraphrase Blessed Cardinal Newman.)
In chapter 7 of the book of Revelation, St. John describes the 12,000 servants of God from each of the 12 tribes of Israel. There are 144,000 servants. These 144,000 come from the Jewish nation and not from the Gentiles, non-Jewish people.
We non-Jewish people, we Gentiles, have a chance to be saved and sealed, however, with the holy and the pure presence of God as well.
Even more, we are invited to have a more intimate relationship with God in heaven. For in chapter 14 of the same Book of Revelation, St. John describes the vision of the Lamb of God, and with Him 144,000 "who had His Name and His Father's Name written on their foreheads."
And "they sing a new song before the throne. No one could learn that song except the 144,000 who had been redeemed from the earth. It is these who have not defiled themselves with women, for they are chaste. It is these who follow the Lamb wherever He goes. And in their mouth no lie was found, for they are spotless." (Revelation 14: 1-5)
The pure of heart, the truly chaste and wise virgins (male or female) are few but chosen. Their pure virginity reflects the virgin Lamb of God, most holy, because He is most chaste.
He Who is Truth loves them more than all the saints in heaven. In their mouths is only the true Word of God, which keeps them spotless.
To be pure of heart is to be holy as God is holy. To be pure of heart is to be love itself, for "God is love, and he who abides in love, abides in God and God in him." (1 John 4:16)
God is pure of heart. Those who abide in purity of heart, abide in God and God in him.
May the Lord bless you and keep you.
May the Lord let His Face shine upon you and be gracious to you.
May the Lord look upon you kindly, and grant you His peace.
(Numbers 6:24-26)
The Rev. Matthew Krempel is with Kingman's Saint Mary Roman Catholic Church.