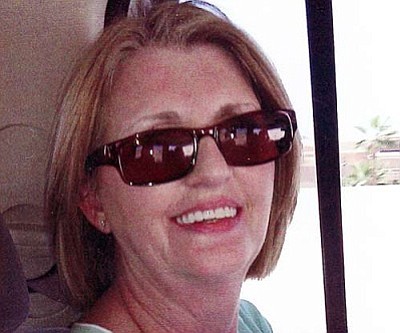 Originally Published: February 21, 2014 6:01 a.m.
Deb McKie of Walnut Creek in Golden Valley passed away Saturday, Feb. 15, 2014.
She was born July 11, 1952, in Akron, Ohio. Deb graduated from Northglenn High School in Northglenn, Colo., in 1970, and married the love of her life, Ralph McKie.
Ralph and Deb have three children: Dean (Renee) McKie of Kingman, Shawn (Tammi) McKie of Midland, Texas, and Erica (Reggie) Sayles of Goodyear, Ariz.
She is survived by her parents, Robert and Mary Jo McEuen of Kingman; her husband, Ralph McKie; her children; and 12 grandchildren. She is also survived by her sisters and brothers, Wendy (Dave) Unger of Kingman, Dave (Chris) McEuen of Northglenn, Robin (Don) Wilder of Littleton, Colo., Trish McEuen of Kremmling, Colo., Kelly (Lee) Ahrens of Boulder City, Nev., and Rob (Maria) McEuen of Kingman; an aunt and uncle; and many nieces, nephews and cousins.
Deb was employed at the Kingman Unified School District No. 20 for 14 years and then at Arizona State Prison in Kingman as an administrative assistant for 10 years.
She was loved by anyone who knew her and will be missed by all who had the privilege and honor to be called her friend.
Per Deb's request, there will not be a memorial service. There will be a family celebration of life on July 5.
Thoughts and condolences can be sent to Stephen's family at www.lietz-frazefuneralhome. Arrangements were placed under the care of Lietz-Fraze Funeral Home and Crematory.
More like this story