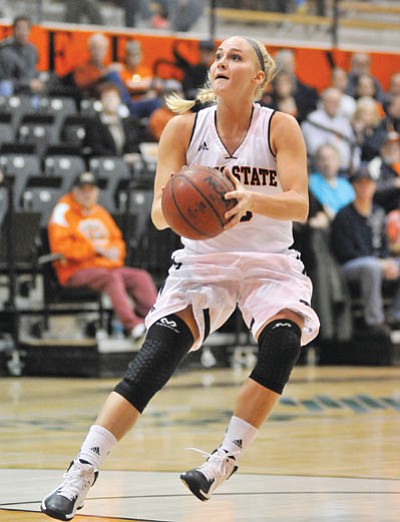 Originally Published: February 23, 2014 6 a.m.
KINGMAN - Lindsey Reed (Kingman High, 2010) is getting warmed up for her final home state appearance.
Reed scored a career-high 34 points to lead Idaho State past Montana State Thursday in a Big Sky Conference game in Pocatello, Idaho, 75-65.
"I knew from her attitude before the game that she was in a different mind-set," ISU coach Seton Sobolewski told the ISU Media Relations Department. "I felt like she was either going to have a really good game or a really bad game, and she played really well right from the opening tipoff."
Reed's points came on 7-for-16 shooting, including 3-for-8 from the 3-point arc. She was 17-for-18 from the foul line. Her 34 points are the most scored by an individual player during the Sobolewski era. He is in his sixth year as coach of the Lady Bengals.
Reed just missed the most free-throws made in a single game school record, which is 18. She played 39 of 40 minutes and also totaled seven rebounds, two assists, two steals and a block.
ISU (8-7 Big Sky) played Montana Saturday, and Reed leads them into Flagstaff against Northern Arizona at 6:30 p.m. Thursday.