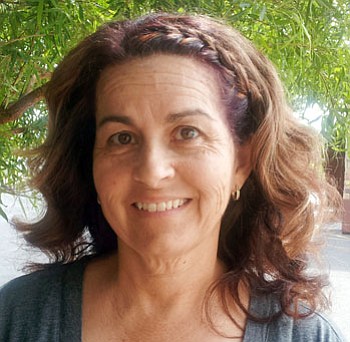 Originally Published: February 23, 2014 6 a.m.
On Jan. 29, 2014, our dearest Anji became an angel after a long, courageously hard-fought battle with cancer. Anji was surrounded by her loved ones in the beautiful home that she created, and passed as gracefully as she lived.
Anji was born in Galesburg, Ill. In 1976, she moved to Kingman with mother Grace Rieck, father Les Rieck and twin sisters Scarlet and Marsue. After graduating from Kingman High School with honors in 1984, Anji went to work for Mohave County Superior Court. She worked as a courtroom clerk and then as a judicial assistant for the Honorable James E. Chavez. Anji and Mark were married in July of 1985. They were blessed with four children: JoBeth, Bailey, Jake and Savannah. Anji medically retired from Superior Court in 2008 due to ovarian cancer. Anji became the greatest Nonni ever to Cambria Grace in 2011 and Rayna Lillyanna in 2013.
Anji was a caring, compassionate, forgiving person who always put the well-being of others before her own. She would listen without judging and knew exactly what to do and say to make life easier. She provided a safe place for many struggling children and a safe haven for stray animals.
To know Anji was to love her. Her sense of humor was eclipsed only by her smile which brightened the gloomiest of days and melted the hardest of hearts. Her favorite word was fabulous and everyone was fabulous. Her kind, gentle spirit will be missed by all who knew her. She was happiest in the kitchen, baking and cooking for those she loved.
Anji was a beautiful, loving daughter, wife, sister, daughter-in-law, mother, Nonni and friend. She is preceded in death by her mother (Nana) and father (Ponka) and grandson Nico. Left with holes in their hearts are Mark, JoBeth, Bailey, Jake, Savannah, Cambria, Rayna, Scarlet, Marsue and in-laws, Grammi and Poppi, Ya Ya and Papoo as well as several dear friends, who loved her to the ends of the earth.
The family would like to send a loving heartfelt thank you to Dr. Nick Spirtos from the woman's cancer center of Las Vegas and Dr. Donald Nelson of Lake Havasu City for the love and compassion you showed for Anji.
The family is planning a private shindig. In lieu of flowers, they ask that you make a donation in Anji's name to one of the charities that she was passionate about: St. Jude's Children's Hospital, Wounded Warrior Project and/or the ASPCA.