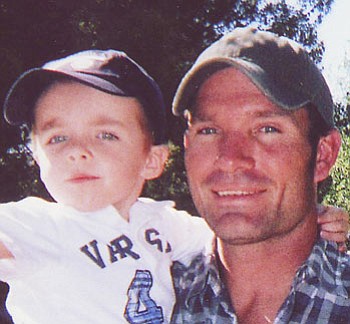 Originally Published: February 27, 2014 6 a.m.
David Eric Neighbors, or "Davey" as he was known, was born on Father's Day in the small mountain community of Big Bear Lake, Calif., to proud parents Dave and Joan Neighbors.
Davey's early childhood years in the mountains instilled in him a love of adventure and the outdoors. His early days were spent hiking with his brothers, building forts, playing soccer, riding his bicycle around the neighborhood and camping with his family in the mountains surrounding the Big Bear Valley.
When he was five years old, Davey moved with his family to the Mojave Desert, where his love for adventure and the outdoors grew even more. He lived with his family on a five-acre ranch just outside of Apple Valley, Calif., where he would ride horses and explore the dry riverbeds and desert foothills with his brothers.
After his older brothers exited high school, Davey and his younger brother Randy moved to Kingman in 1991 when their father received a job working for the Arizona Pipeline. Davey developed a deep affinity for the desert growing up in Kingman as he and his brother Randy would often hike the nearby foothills and explore the Arizona desert on their bicycles. Davey also developed exceptional skills as an athlete playing soccer for various clubs in Kingman.
When he was 22 years old, Davey relocated to Phoenix with his childhood sweetheart, Chelsea Sledge, and began working as a landscaper. His strong work ethic and dedication helped him quickly move up the ranks to foreman and eventually lead supervisor.
In 2007, Davey and Chelsea produced a son, Talon Neighbors, who was born on June 10. A few years later, Davey and Chelsea separated, but Davey remained a dedicated father to his son, Talon, who meant the world to him, and maintained a close, amicable relationship with Chelsea.
When he was not working or spending time with his son, Davey's favorite pastime was backpacking around Sedona with his brother Randy and exploring the various slot canyons of the Sonoran Desert. Davey would also occasionally make the trek to visit his family out in California, backcountry ski in the Sierra Nevada mountains and play music with his brothers. He was a two-time finisher of the Del Sol Ragnar Relay Race and a knowledgeable outdoorsman.
He was also a dedicated family man who would often visit his father in Prescott and his mother in Kingman, and he was careful to make sure his son Talon maintained a close relationship with his grandparents.
In early 2013, Davey's landscaping career came to an end and he found himself out of work. His thirst for adventure and strong work ethic landed him in North Dakota later that year, where he found employment as a "roughneck" working in the oil fields. On Feb. 21, 2014, a tragic accident in North Dakota took Davey's young life at the age of 30.
Davey was known to all who loved him as an eternal optimist with an outgoing personality and infectious smile. He was the kind of person who could walk into a room full of strangers and walk out with several best friends for life. He was a musician, adventurer, philosopher, backpacker, ultra-runner, dedicated father, gentle soul, optimist and an amazing brother.
He is survived by his six-year-old son, Talon; his brothers, Jarrod, Toby, Josh and Randy; his mother, Joan; father, Dave; stepmother, Monta; cousins, Lisa and Erin; Aunt Mary; Aunt Jenny and Uncle Jim; and a long list of friends who will always hold a special place for him in their hearts.
A memorial will take place at a later date. Here is a link to a page we set up in Davey's name to help offset memorial service costs and set up a scholarship for his son, Talon. Since Davey had no life insurance, any amount would be appreciated and very helpful! Thank you! www.giveforward.com/davey_neighbors.