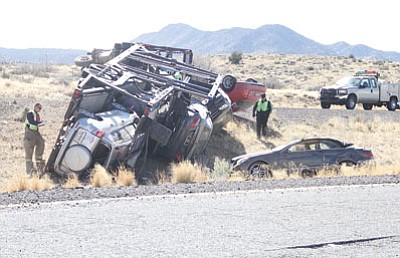 Originally Published: February 28, 2014 7:39 a.m.
Four people were treated for minor injuries at Kingman Regional Medical Center following a two-vehicle collision on Interstate 40 east of Kingman Thursday afternoon.
According to Arizona Department of Public Safety spokesman Raul Garcia, a passenger car and a loaded car hauler collided while driving in the westbound lane at milepost 66.
The car hauler rolled into the median and spilled its cargo. The crash prompted the closure of one lane of eastbound I-40 and restricted traffic in the second lane.