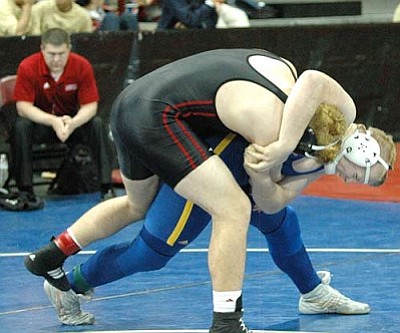 Originally Published: February 28, 2014 6:01 a.m.
KINGMAN - Qualifying for the state wrestling tournament is quite an accomplishment, but it shouldn't be viewed as the end of the quest. That may have been a prevailing thought as the Kingman High Bulldogs finished in 31st place out of 49 teams with 14 points, 153 behind the Division II state champions Yuma Cibola last Friday and Saturday in Prescott Valley.
"I was disappointed about how we wrestled," said KHS coach Brandon Clor. "When you got to state competition, wrestlers up their game. We didn't up our game and consistently lost to wrestlers who we shouldn't have lost to."
Cody Ricker shined for Kingman in the 220-pound class. Ricker posted a 4-1 record and finished fifth to score 13 of the Bulldogs' 14 points. He won three of his matches by pin, including the first two of the tournament for a spot in the semifinals.
"Luckily, Cody rose above his seed and wrestled well," Clor said. "You don't see a lot of wrestlers pinning their way to the semifinals."
Ricker pinned Liberty's Darrian Burkett in 1 minute 29 seconds and followed that win with a pin over Paradise Valley's Jonathan Moroneso in 1:31. In the semifinals, Ricker was knocked out of championship contention in a 12-6 loss to Vista Grande's Sammuel Reeves (51-3) - the No. 2 seed.
"I was pretty confident going into the semis after the two pins," Ricker said. "I got down a few points going into the third, tried to make up points but got caught.
"I'm happy with fifth, but it wasn't what I was shooting for. I was close to getting into the finals, but he was a pretty strong kid."
This is Ricker's final year at Kingman, and he plans on joining the Marines after graduation. He's earned a ton of respect from Clor, but things weren't always rosy between the two over the four years they spent together.
"He and I haven't always gotten along, but he's taught me everything I know about wrestling," Ricker said. "He's been a real good mentor, and he's a pretty good wrestling coach."
Early on in Ricker's career, Clor said he was frustrating to work with and needed a lot of work to get better.
During that time, Ricker learned, grew and got stronger and faster.
"He's one of the most mature wrestlers to go through our program," the coach said. "He's a real testament to how successful a wrestler can be if they buy into the program and commit themselves. The Marines are getting a great young man."
If a state championship couldn't be had, Ricker wanted to be sure that his last match was a win.
He did that when he beat Cibola's Simon Jacuinde in the fifth-place match, 5-4.
"I just wanted to go out on top," Ricker said. "It just stinks that all the cool stuff about high school is over."
C.J. Gore earned Kingman's only other point with a Consolation Round 1 win over Camelback's Manuel Barriga, 4-2.
Dalton Delong, Jared Brown and Sheng Gao each went 0-2 at the state meet.
Kingman loses five seniors to graduation, but Clor is satisfied with how this season went and believes in the prospects for the future.
"We had one of our best years in KHS wrestling history," the coach said. "We need to build on it for next year."