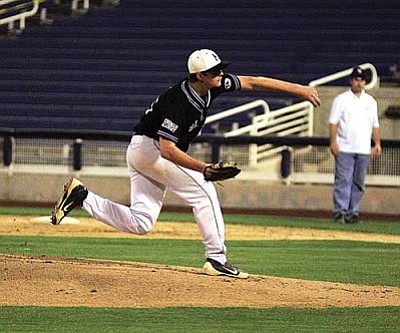 Originally Published: February 28, 2014 6 a.m.
KINGMAN - When Kingman Academy High School transitioned from the Arizona Charter Athletic Association to the Arizona Interscholastic Association beginning this school year, the Tigers' baseball program was looked at as being able to handle the move smoothly.
Kingman Academy challenged about 10 teams for its CAA titles, which it had won the previous four years. The Tigers will battle 58 teams for the AIA Division III state championship this year.
Kingman Academy enters its first AIA season with plenty of depth. While eight pitchers will see the bulk of the duty on the hill, KAHS coach Bill McCord said he has three more on the JV level who he can use if needed. Though that is a lot of pitching, McCord thinks it is his team's bats that will lead them to success.
"I think we're going to hit the ball. That's going to be our strength. We will come out and score runs," the coach said. "Which is crazy, I know, because I have really good pitching and it's deep."
The Tigers look to primarily use Tarik Skubal, Bailey Rust, Austin Tomlinson, Westin McCord, Quinn Garcia, T.J. Pena, Josh Allen and Cody Quick on the mound.
Not only is the Tigers' pitching staff deep, Kingman Academy has just about two players for every position on the field.
"My pitching staff is very experienced in ball placement and a few have very good speed with their fastballs," McCord said. "Defense has always kept this squad in games. I expect them to shut down many offenses."
Cody Tuepker, Pryce Portillo, Chy Banda and Rust should man the outfield, but McCord has four first basemen/outfielders he can turn to as well. Skubal, Quick, Lance Martin and Breyden Potter make the Tigers' outfield eight-men deep.
"I have many options to explore this year with my fielders," McCord said. "Cody Tuepker has added some strength to the outfield and at the plate."
Tuepker transferred to Kingman Academy from New Mexico in August.
Westin McCord should handle most of the duties behind the plate. Pena and Garcia will hold down second base, Tomlinson gets shortstop, and Garcia and Martin should spend time at third base.
Kingman Academy appears to be in good shape in the leadership department, too. Skubal, McCord and Tomlinson have college commitments and their work ethic should reach down into the roster.
Pitching and defense are expected to carry the Tigers far, but McCord believes it's the offense that will get them past opponents.
"We hit over .400 last year as a team, but I'm not sure if we can hold up those numbers with stiffer competition in the AIA," the coach said. "I think we will have an extremely powerful hitting lineup."
Kingman Academy opened the regular season Thursday in Ash Fork. Results were not available by deadline.
The Tigers are at the Bagdad Baseball Tournament today and tomorrow for five games in two days against Bagdad, Wickenburg and Williams.