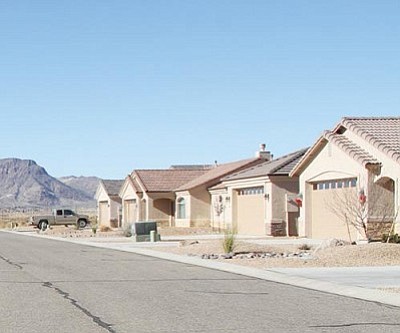 Originally Published: January 3, 2014 9:49 a.m.
Most residents of the Chaparral Mesa subdivision in northern Kingman fit one of three demographics: Retired, About to Retire, or Young Family.
Collectively, they represent "a good mix of All-American Kingman people."
So said Realtor Diane Noyes with Hollingsworth Properties, who has half a dozen of the 12 listings currently available, with just a few ready-to-build lots left.
With a different builder constructing custom homes on each street in the subdivision, notably absent from Chaparral Mesa is the cookie-cutter look.
"Every home is unique," Noyes said. "You don't have to worry about walking into the wrong home because they all look the same."
With the first home constructed about 20 years ago, Chaparral Mesa is not a new subdivision in the Kingman area, but it is a success story that continues to attract homebuyers.
Situated on about 600 acres stretching from Thompson to McVicar avenues, there is no homeowners association at Chaparral Mesa, but there are codes, covenants and restrictions in place to ensure homes are well maintained.
"We want to keep it nice," said Noyes.
While home prices in Kingman have increased over the past 12 months, they remain attractive in what continues to be a buyer's market.
"I would say affordability is what makes Chaparral Mesa attractive, because our prices are more moderate than elsewhere, but really, there are a lot of attractions," said Noyes, who has been a Realtor in Kingman since 2001. She began selling homes in Chaparral Mesa in 2005.
"I sold homes on every street during the boom," she said. "People really tend to like it here. One couple sold their home and moved to Montana, but they couldn't get Kingman out of their heads and they came back and bought another home in Chaparral Mesa," said Noyes.
She described the subdivision as full of solid, middle-income earners, with many residents employed at Kingman Regional Medical Center or at the nearby Kingman Airport and Industrial Park.
Despite the subdivision's proximity to the airport, Noyes said noise isn't a factor because planes don't fly over Chaparral Mesa either on approach or takeoff.
The northern Kingman neighborhood is far enough away from city traffic to give it a more rural feel, the mountain views are among the best in the area and access to Route 66 is convenient, she said.
One of the more appealing aspects of life in Chaparral Mesa, said Noyes, is the fact neighbors socialize.
"They know each other," she said. "And they like each other."
Each spring and summer the neighborhood holds a community-wide yard sale, she said, and it isn't uncommon to see people walking their dogs and talking to neighbors.
Almost every lot is 65-feet by 105-feet. Some have space for RV parking, depending on how the home is situated on the lot. All front yards feature desert-friendly, easy-to-maintain landscapes put in by the builder and all backyards have block walls.
Since each street has a different builder, homes vary in terms of square footage and whether there's a two- or three-door attached garage.
A key selling point, said Noyes, is the north-south exposures of most homes that keep the brutal afternoon sun from hitting larger windows in the summertime.
Prices are equally diverse, ranging from $85,000 to $153,000. Available floor plans include split, with the master bedroom and bath on one end of the home and smaller bedrooms on the other end, and ranch, where all bedrooms are grouped together at one end of the home.
The developer put in paved streets, as well as water and sewer service. Homeowners can purchase either cable or satellite television service.
Noyes said the subdivision had a good year, with 38 homes selling in 2013.
Most of them came from out of state, she said.
"These stick-built homes really are a good value for the dollar," she said. "Taxes are good and they can fit a small family or a couple."
She said new construction is rebounding. "Builders are building and selling again," she said.
Noyes thrived during the boom and she suffered after the bust, but she said the economy is slowly building steam.
"I'm grateful prices are going back up," she said. "I'm not making the money I made during the boom, but I made more in 2013 than I did the year before."
She predicts things will continue to improve.
Noyes said the Kingman market is finally "out of foreclosures" and short sales are also about done. This is good news for home sellers who no longer have to compete with bargain-basement homes sold during the foreclosure glut.
To get to Chaparral Mesa, take Route 66 north to Thompson Avenue and make a left. Make the first right onto Rose Drive.
To make an appointment, call Noyes at (928) 727-1458.