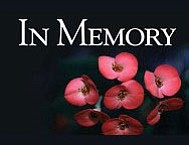 Originally Published: January 12, 2014 6 a.m.
Marjorie Elizabeth Snow Bruce, born Oct. 28, 1921, in Fewell, Okla., passed from this life to more life on Jan. 4, 2014, at her son's home in Kingman. She was preceded in death by her beloved husband, Jess L. Bruce, with whom she shared 67 years of devoted marriage and whom she now rejoices with in heaven. She is survived by her son, Dwayne L. Bruce, and his wife Lesley, who cared for her the past five years in Kingman, and her daughter, Marjorie Sipple (Harry) of Sunriver, Ore. She left a legacy of five grandchildren and seven great grandchildren.
Marjorie was a longtime resident of Wasco and Bakersfield, Calif., before moving to Kingman in 2007. She was preceded in death by her parents, five brothers and one sister, and is survived by sisters Juanita Morrison of Missouri and Ruby Ogden of California.
Marjorie did the work of the Lord Jesus wherever she was. An immaculately clean home and a tiny waist were trademarks of her life. Spoiling her grandchildren was a favorite pastime and cruising and travelling the world with her husband and friends a favored activity. She is loved and will be missed, but we rest safe in the promise of a heavenly reunion in the Lord's time.
Services will be at Greenlawn Mortuary, 3700 River Blvd., Bakersfield, at 11 a.m. on Jan. 18, 2014.