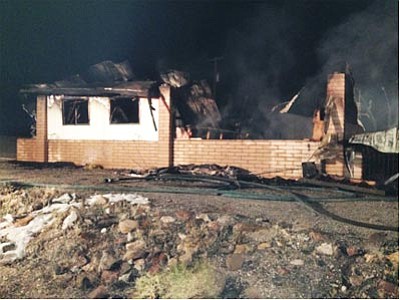 Originally Published: January 14, 2014 6:02 a.m.
MEADVIEW - A fire that authorities deemed suspicious destroyed an abandoned mobile home and adjacent garage Saturday morning in the area of Sandy Point and Haystack drives in Meadview.
The home was engulfed in flames by the time firefighters from the Northern Arizona Consolidated Fire District arrived, according to Chief Patrick Moore.
Crews from the NACFD assisted the Lake Mohave Rancho Fire District, as did the Mohave County Sheriff's Office and UniSource.
Moore said the fire was suspicious and under investigation. Anyone with information is asked to call Moore or Division Chief Don Dallman at (928) 757-3151.