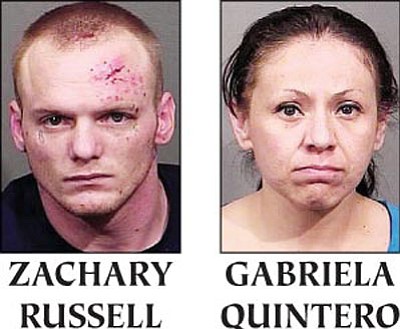 Originally Published: January 14, 2014 1:03 p.m.
KINGMAN - They say every dog has its day. Mohave County Sheriff's Office K9 Ecko has had many of them.
The latest came Sunday afternoon when deputies recognized a man standing on a porch in front of a residence in the 2800 block of Northfield Avenue as someone who had felony warrants for weapons offenses.
Zachary Steven Russell, 24, went inside the home after deputies ordered him to stop. A perimeter was set up around the home and deputies used their public address system to order Russell and anyone else inside to exit.
Eventually, according to spokeswoman Trish Carter, Gabriela Quintero, 38, came outside, but refused to follow deputies' commands. She allegedly attempted to block their path to the front door and punched one deputy when he and a Kingman police officer, who was there to assist, attempted to detain her.
She was hit with a Taser and taken into custody.
Deputies entered the home with Ecko and announced their presence, but nobody was inside.
Ecko was taken outside to search when a deputy noticed a piece of skirting on the mobile home was missing.
They again used the PA system to warn anyone who might be under the mobile home that the dog was going be sent in. Nobody gave up, and Ecko "within seconds" located Russell, who was taken into custody. Ecko bit the man on the arm and calf, said Carter, and he was taken to a Las Vegas hospital where surgery was performed on one of the wounds.
Russell reportedly told deputies he accessed the underside of the mobile home through a trap door that was built in the master bedroom.
Deputies allegedly found two pipes with residue and two canisters that contained about 7.5 ounces of marijuana inside the home.
Russell was charged with felony resisting arrest, possession of marijuana for sale, possession of marijuana, possession of drug paraphernalia and two failure to appear felony warrants issued by Mohave County Superior Court, along with a misdemeanor warrant for failure to pay fines issued by Kingman Justice Court.
Quintero was arrested for felony hindering prosecution, aggravated assault on an officer and resisting arrest.