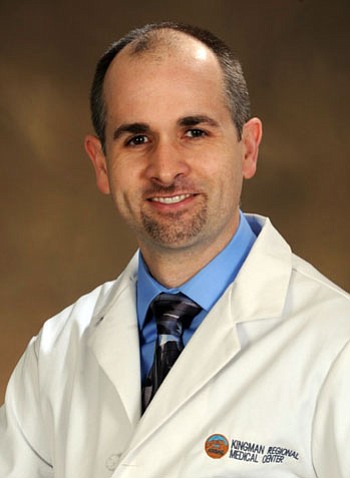 Originally Published: January 14, 2014 6 a.m.
KINGMAN - Thoracic surgeon Dr. Adam Braze has joined the medical staff at Kingman Regional Medical Center.
According to a news release from KRMC, Braze's hiring "meets a vital need in our community for a highly-skilled surgeon who specializes in repairing diseased or injured organs and tissues located in the chest (thoracic cavity)."
As a board-certified thoracic surgeon, KRMC said Braze is skilled in the surgical treatment of the lungs, esophagus, trachea, chest wall, and diaphragm. He is also an expert in newer minimally-invasive surgical procedures for treating structures in the chest without major surgery. When appropriate, these procedures can minimize patient discomfort and reduce recovery time.
Braze received his doctorate in osteopathic medicine at Touro University in Mare Island, California. He completed an internship in general surgery through Michigan State University at Botsford Hospital in Farmington Hills. Braze then completed a four-year residency in general surgery, also at Bostsford Hospital, and a two-year residency in cardiothoracic surgery at Rush University Medical Center in Chicago.
He is board-certified in both general surgery and cardiothoracic surgery by the American Osteopathic Board of Surgery.
Braze's extensive training and experience has included a major focus on lung and esophageal cancer, according to KRMC. He will team with local pulmonologists, radiologists, oncologists, and other health care experts to provide multi-disciplinary care to patients with esophageal or lung cancer. For many of these patients, he acts as an advocate on their behalf and helps manage their case throughout the continuum of cancer care to survivorship.
Braze is "passionate" about the early detection of lung cancer, KRMC notes. Prior to coming to Kingman, he initiated an innovative lung cancer screening program in central Pennsylvania. He hopes to do the same in our area.
"With modern imaging technologies and surgical procedures, we can now detect and treat lung cancer at earlier, more survivable stages," Braze said. "With the high incidence of lung cancer in northwest Arizona, we can save many lives by starting a screening program here."
Braze joins general surgeons Dr. Eric Capriles and Dr. James Gonzales at Mohave Surgical Specialists, 3104 Stockton Hill Road in Kingman. For more information, call his office at (928) 681-8720.