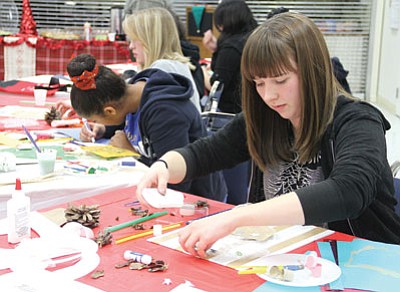 Originally Published: January 15, 2014 6 a.m.
Twenty-two high school students, college students and community members competed for more than $7,000 in scholarships during a one-hour, live art contest held recently at Mohave Community College's three southern campuses. Contestants had one hour to use mystery supplies to design and construct their depictions of a surprise theme. The supplies and theme were revealed to them at the start of the contest, which was held at MCC's Bullhead City, Lake Havasu City and Kingman campuses. The participants were given neon straws, paper clips, a pine cone, a clothes pin, bubble wrap, gold stars and three MCC car window stickers to depict the theme, "The Gift of Education."
A panel of local judges awarded scholarships worth $600 to first place, $500 to second place and $400 to third place winners on each campus that count towards MCC's new Visual Communications program. The program features Fine and Digital Art, Web Design, Photography and more. On MCC's Neal Campus-Kingman, the seven students who competed were: Kylee Bolton, Victoria Davis, Yesenia Lopez, Tatum Newell and Tiffany Newell (all from Kingman Unified School District) and Adriana Jara and Jay Walker, both of whom are MCC students.
The judges awarded first place to Tiffany Newell, second place to Adriana Jara and third place to Kylee Bolton. The judges were: Susan Kruger, Mike Newton, Linda Boswell and Richard Boswell. Here, Tiffany Newell (front) and other contestants work on their projects.