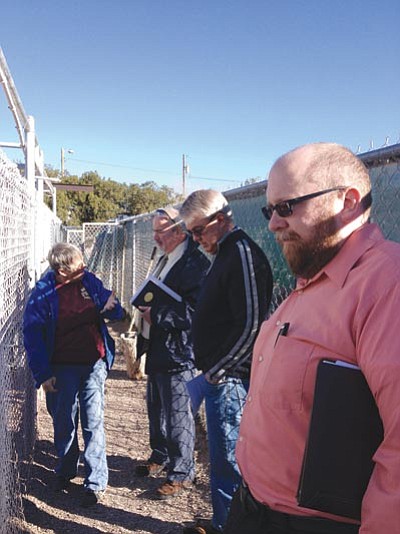 Originally Published: January 17, 2014 6 a.m.
KINGMAN - Mutt Matchers, a nonprofit dog adoption center, faces new hurdles as they try to renew a $1-a-month lease of city property that houses the group's operations - and there's a deadline, since the existing lease expires in February.
Mutt Matchers rents the former city dog pound at 1001 Buchanan St. But a 1996 law meant to keep cities from unfairly competing with private landlords means they'll have to take extra steps this time.
That law is the Government Property Lease Excise Tax (GPLET), said Kingman City Attorney Carl Cooper.
"GPLET was enacted by the Legislature to prevent what some saw as government competing with private property owners," said Cooper. "We have to look at the value of the property and the value of the direct benefit provided to the community by the organization and find a way to quantify the two, or we [the city] could be subject to the tax."
Mutt Matchers recently contacted the city about renewing their lease, but became concerned when they were asked to submit a "list of the benefits they provide to the community."
Following a tour of the facility Thursday, Mutt Matchers discussed their operations with city manager John Dougherty and Cooper. The group is permitted for 15 dogs at the facility and currently has six. Five were adopted from a kill shelter in Henderson, Nev., and one was adopted from the Western Arizona Humane Society (WAHS), which operates the facility located directly across the street.
City officials were concerned that Mutt Matchers is bringing in dogs from out of state instead of taking in dogs from the community.
Mutt Matchers representatives Judy Torgerson and Charlene Haffner explained that although they would like to accept more local dogs, many are sick or have other problems.
Responding to questions about why the group can't accept dogs from the general public, Haffner said the group uses a "...220 point evaluation and the dog must pass with 176 or more to be accepted."
"If you take from one, you have to take them all, and many are 'unadoptable dogs,'" she said. "We might have to tell them, 'No, it doesn't meet our evaluation,' because we're so little. We could do that if we had another kennel - a quarantine kennel. Could we have that building?"
With that, discussion turned to the availability of another city building located behind Mutt Matchers' current location.