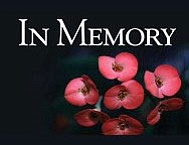 Originally Published: January 21, 2014 6 a.m.
Mary Harris, 94, of Kingman died Saturday, Jan. 4, 2014, in Kingman. She was born Sept. 2, 1919, in Shoffner, Ark.
There will be a memorial service at 1 p.m. Tuesday, Jan. 21, at the Lake Havasu Memorial Gardens. Sutton Memorial Funeral Home handled arrangements.