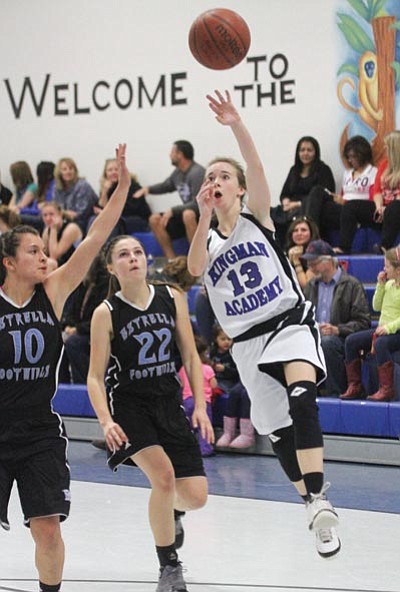 Originally Published: January 22, 2014 6 a.m.
KINGMAN - The Lady Tigers staggered out of the gate Thursday and Estrella Foothills outscored the Kingman Academy High girls basketball team 22-1 in the first quarter.
The Wolves cruised from there for an AIA Division III Section 2 win, 53-18.
Ashley Friend led Kingman Academy (0-3 S-2, 1-9 D-III) with four points. Ashlea Tomlinson and Laura Harris both added three for the Lady Tigers, and Paige Mousley, Destinee Haren-Ralph, Brooklyn Wusstig and Lauren Winslow all finished with two.
Catherine St. Vincent led the No. 17-ranked Wolves (3-0, 7-4) with 15 points. Trystyn Dunivant added 13 for Estrella Foothills.
Kingman Academy played Seligman in a non-section game Tuesday. Results were not available by deadline.
The Tigers play at Tonopah Valley at 7 p.m. today.