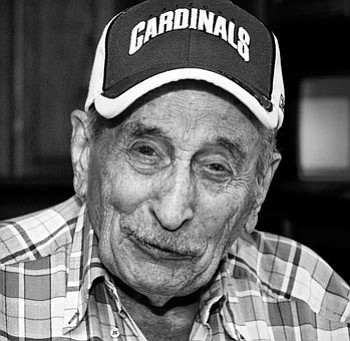 Originally Published: January 22, 2014 6 a.m.
Edwin A. Schoenborn passed away Monday, Nov. 25, 2013. Edwin was born July 31, 1919, in Chicago, Ill., to John and Minnie Schoenborn. Chicago is where he met and married Kathleen M. Gallagher; they were married for 44 years. The couple moved to West Covina, Calif., where their son Darryl was born and raised. Ed and Katie were devoted and proud parents. They unselfishly promoted Darryl's musical talents and were the catalyst to the success he achieved in music. In California, Ed worked for General Telephone until he retired. After retirement, Ed and Katie moved to Kingman.
"Mr. Ed," as he liked to be called, had a very full life. He was in the Navy and served our country during World War II, and was a Shriner's Clown (by the name of "Green Eyes"). He served on the board of the Kingman Fire Department and was a Mason for more than 50 years. Ed and his wife, Katie, were involved in the Kingman Senior Center and were members of the "Oldies but Goodies" band.
After the passing of Ed's wife, he met a lady by the name of Doris Huff. They became the best of friends; it was a friendship that lasted 19 years. Had it not been for this special friendship, he may not have lived such a long life.
Ed will be missed by those who knew and loved him. He was an honorable, generous and caring man with a great wit and sense of humor. Ed had a quiet demeanor but somehow when you saw that twinkle in those blue eyes, you knew that the wheels were turning. He didn't say a whole lot, but when he did, it was worth remembering. He could deliver a great one-liner and make everyone laugh when it was least expected. He so much enjoyed everyone's reaction, which was usually laughter.
Ed is survived by his granddaughter, Lindsey Schoenborn, an RN who lives and works in Boise, Idaho; daughter-in-law, Linda Schoenborn of Meridian, Idaho; and cousins, Norma Scott of Woodruff, Wis. and Ben Schoenborn of Brookfield, Wis. He was preceded in death by his wife, Kathleen; his brother, Milton; and his son, Darryl.
A celebration of his life will be held at 1 p.m. Saturday, Jan. 25, at the Kingman Moose Lodge, 302 Monroe St.
More like this story