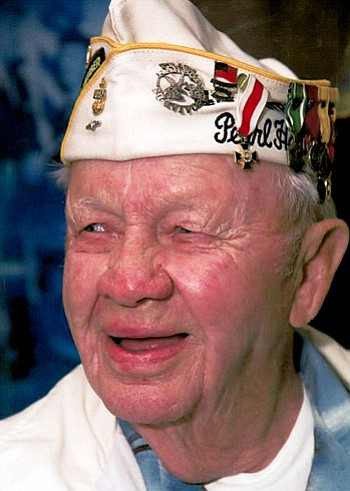 Originally Published: January 22, 2014 6 a.m.
Howard Linwood Snell was called home by the Lord on Jan. 14, 2014. He is survived by his wife, Marjorie; daughter, Kristine Williams of Spartanburg, S.C.; sons, Dwight of Portsmouth, Va. and Dean of South Riding, Va.; and a blended family of 10 stepsons and daughters, 32 grandchildren, 42 great-grandchildren and four great-great-grandchildren. He was preceded in death by his wife, Dorothy, of 57 years, and an infant son, David.
Howard was born in Remer, Minn., on Jan. 20, 1923. He was the younger of three. A sister, Glorene, is deceased and a brother, Norman, at the age of 92 resides in Cedar Rapids, Iowa.
Howard joined the Navy in December of 1940, went to boot camp in Great Lakes, Ill. and started a 21-year naval career. His first berth was aboard the USS Enterprise CV6 as a mess cook. He was attending cook and baker school on the submarine base at Pearl Harbor, Hawaii on Dec. 7, 1941, a day that changed his and many other young men's lives. He participated in 15 of the 16 major battles of the Pacific, including the Battle of Midway and the Solomon Campaign. He served aboard the USS Enterprise CV6 from 1941 to 1943, when he transferred to "something less dangerous," the USS Morrison DD560 - and rode her until she was sunk off of Okinawa on May 4, 1945, by Japanese kamikazes.
After the war, he changed his field to the then-budding sonar program, where he became involved in the Undersea Warfare Naval Intelligence. Howard retired from active duty in 1962. As a civilian, he continued on in Naval Intelligence until 1974.
During this time, he worked on the Submarine Quieting Program during the Cold War, helping to create The Undersea Warfare Acoustic Library holding over 50,000 pieces of data on the Soviet Submarine Threat.
His civilian career and retirement took him from Washington D.C. to Virginia, Texas, Wisconsin, South Carolina and finally Kingman. Wherever he lived, he was active in the community. He was a member of the Masonic Order for 61 years, Gideon International for 38 years and various other civic organizations. He was a very active member in the Pearl Harbor Survivor Association until it disbanded in December of 2012. He then continued on with the Sons and Daughters of the Pearl Harbor Survivors.
He was also a life member of the Navy League and the American Legion. He was proud to be a member of the Naval Order of the United States and he loved driving cross-country each year to their congress. In Kingman, he was an active member of VFW Post 10386, the Republican Forum and Moose Lodge 1704, where he was serving in the chair of prelate.
Howard was privileged to go back to Washington D.C. this past Dec. 7, where he participated in the Pearl Harbor memorial at the Naval Memorial. He was honored at the Naval Order Dinner that evening. The next day, Sunday, Dec. 8, he was honored on the field of Fed-Ex Stadium during his beloved Redskins' game. He had been a season ticket holder since 1967. The Lord blessed Howard with a great life.
A memorial will be held at 10:30 a.m. March 15, 2014, at College Park Baptist Church. He will be interred at Arlington National Cemetery on June 6, 2014.
In lieu of flowers, donations can be sent to The College Park Baptist Church Building Fund, 1990 Jagerson Ave., Kingman, AZ 86409.