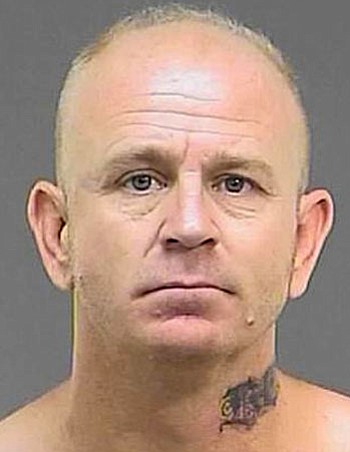 Originally Published: January 24, 2014 6 a.m.
KINGMAN - After seven days of listening to often conflicting and troubling testimony and about eight hours of deliberations over two days, a Mohave County jury on Thursday found Russell Shields guilty of second-degree murder and other crimes in the July 18, 2011 murder of Albert "Beto" Orozco.
The victim's family tearfully thanked prosecutor Doug Camacho and many of the police detectives who investigated the killing following the verdict.
"At least it makes me feel a little better knowing they will pay for what they did," said Araceli Salazar, Orozco's mother. "It's not like this will make us happy again, but we are relieved."
Salazar also said something that every parent who has lost a child for any reason can attest to: "No parent should have to go through this," she said. "Beto made mistakes, I know this now, but he wasn't a bad person. He would do anything for you. He would give you his food if you were hungry. He would give you his shirt if you needed it. He was the guy that made everybody laugh ... his biggest mistake was hanging around the wrong people."
Orozco did deal methamphetamine and Kingman police believe he was killed because he owed a huge amount of meth and money to his supplier, who was reportedly in league with a Mexican drug cartel in Phoenix.
Shields, 44, owed the same supplier a large amount of cash and police speculate Shields was given the opportunity to "work off" his debt by killing Orozco for the cartel.
Testimony alleged Orozco owed about $40,000. Shields owed about $8,000.
Orozco was also on track to graduate from the Scottsdale Culinary Institute and planned on becoming a chef.
His future was taken away and now the man police believe is most responsible must pay the consequences.
The jury couldn't agree that Shields and his former codefendant, John Langan, 35, robbed Orozco the night he was killed and his body abandoned on a Kingman street. That doubt allowed him to avoid a first-degree murder conviction that could have led to a life sentence.
But they readily agreed he was responsible for the 27-year-old father's death even though it's likely nobody but Shields and Langan will ever know for certain who pulled the trigger.
Jurors also found Shields guilty of abandonment of a body. After going through the victim's pockets, the men placed Orozco's body in his maroon Honda and parked it on a side street. A man discovered the body after hearing music coming from the car and called Kingman police.
Shields was found guilty of tampering with physical evidence for breaking apart the weapon used in the shooting and throwing parts of it in a nearby field. Langan led detectives to the field and parts of the gun were recovered. The two men also cleaned up the crime scene and destroyed other evidence.
He was found guilty of hindering prosecution for the repeated lies he told Kingman detectives who investigated the murder, and he was found guilty of misconduct involving a weapon for obvious reasons.
Judge Derek Carlisle set a sentencing date for 3 p.m. Feb. 25. While Shields could face up to 16 years just on the second-degree murder conviction, Carlisle will have to determine several aggravating factors that could enhance Shields' prison term.
Shields exercised his right to have Carlisle determine any aggravating factors, but he stipulated to one of them the state sought, that the killing caused emotional and financial harm to the victim's family.
While that may seem like a noble gesture, the move actually kept Orozco's mother and other relatives from telling the jury how the killing has affected their lives.
They will be afforded the opportunity to speak to Carlisle at Shields' sentencing hearing.
Other aggravating factors Carlisle must consider in sentencing Shields involve:
• The fact a deadly weapon was used in the crime. Orozco died from a single gunshot wound.
• An accomplice: Langan and Shields were involved in the crime.
• An expectation of procuring anything of pecuniary value: Did Shields gain from the killing?
• And laying in wait.
Also, Carlisle must consider that Shields has several prior felony convictions, which will enhance his sentence, and the fact that Shields was on bond regarding another felony arrest at the time of the murder.
Carlisle has a moderate amount of discretion in sentencing Shields, but at the very least he will spend at least 20 years behind bars - if Carlisle finds none of the aggravating factors and enhancements apply.
The sentencing range for second-degree murder is from 10 to 16 years, and can go up to 25 years with the aggravating factors.
Last year, Shields was sentenced to 10 years on an unrelated conviction of possessing several ounces of methamphetamine. A second drug conviction handed down last year ended with a five-year sentence, which is under appeal.
Finally, Shields has yet another drug and weapons offense case that has yet to be decided.
Should Carlisle throw the proverbial book at Shields, he could give him the maximum allowable term and stack each sentence on top of each other, meaning Shields would have to finish one sentence before beginning another.