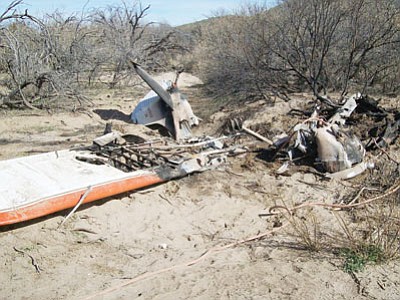 Originally Published: January 28, 2014 6:02 a.m.
Pictured are a wing and other parts of a single-engine aircraft that crashed Sunday near Wikieup. A Lake Havasu City pilot escaped injury after crashing his small plane while attempting to take off.
James Logsdon, 59, flew alone from Lake Havasu City to Wikieup and was about to return when the incident occurred late Sunday morning.
"Apparently, the pilot ran out of runway and went off the end of the pasture where the plane's tail flipped forward," said Mohave County Sheriff's Office spokeswoman Trish Carter in an email.
Logsdon, she said, avoided injuries in the crash and was able to exit the aircraft before it caught fire.
Carter said the Federal Aviation Administration and National Transportation Safety Board were notified and both agencies will investigate the crash.