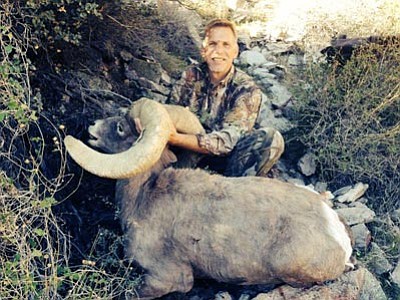 Originally Published: January 29, 2014 6 a.m.
KINGMAN - Drawing a desert bighorn sheep tag in northern Arizona is not an easy thing to do, and when you take the largest ram in your unit, that is something to be really proud of.
Jeff Pebworth has been in Arizona for about 12 years and is an avid outdoorsman. Hunting is his passion.
He came here from Utah, where he worked as a biologist for the Utah Division of Wildlife. Prior to that, Jeff was a biologist for the Washington state Department of Natural Resources.
He hired on with the Arizona Game and Fish Department in Region III as the region's wildlife program manager.
Since he has been here, Pebworth has hunted for many of Arizona's big game animals. Jeff has taken mule deer, whitetail deer, pronghorn antelope and javelina. Pebworth is an avid bow hunter, and uses a longbow on his hunts.
He also uses a rifle and has taken elk, wild (feral) hogs and an Axis deer.
But this year, Pebworth literally won the wildlife lottery when he drew tag No. 6 out of the six offered for Unit 15D North.
As soon as he knew he had drawn the tag, he prepared for his hunt.
That meant starting to prepare himself physically and mentally for the many challenges that come with a bighorn sheep hunt.
"I knew I had a great tag and that I could be very selective," Pebworth said.
His tag was for the late hunt in Unit 15D, which is the best sheep unit in northern Arizona, if not the state. That unit is located in the Black Mountains west of Kingman.
In 2013, the department split Unit 15D into two sections, divided by Oatman Road. Pebworth's tag was in the unit's north section.
The department also created two hunts for Unit 15D North - an early hunt that started Nov. 22, and a late hunt that started Dec. 12.
Pebworth knew that any mature rams he spotted during his scouting trips could possibly be taken by the five hunters on the early hunt, or by any of the other five hunters who had tags for the same hunt.
Pebworth developed a simple hunting strategy.
"I wanted to get as far away from any roads that I could," he said.
As the season got closer, Pebworth hiked many miles looking for sheep.
He found sheep in all the "normal places" where other sheep hunters, outfitters and guides look, but he also found a few above-average rams in places well off the beaten track.
Bu the ram that Pebworth was looking for wasn't seen on any aerial surveys and wasn't wearing any radio collars. He found the ram he wanted on the first day of the first hunt.
"I had hiked in a long ways when I saw this one particular ram," Pebworth said.
"I knew he was a great ram and had it all - age, length and mass."
But Pebworth wasn't the only one who might have seen the ram: "I actually talked to a hunter who said he had seen a giant ram and had shot at it but missed," he said.
In the end, none of the five hunters who had the first hunt in 15D North took the ram that Pebworth wanted.
Two rams were taken that definitely qualified as trophies. One ram scored 165-4/8 while the other scored 170.
When Pebworth's hunt opened, he and a friend started searching for the old, long-horned ram.
They found him on the first day, but there was no way they could get to him.
The second day, they found the ram again, but once more he was in an area where taking a shot would bring disastrous results.
They sat and watched the old ram, three other rams and a couple of ewes all day from a long ways off, determined to try again to get into range of the old monarch.
The next day they hiked back in to the area and started looking. Initially, they couldn't find the ram, but then they heard rocks falling - and there he was, 225 yards away.
Pebworth got settled in with his rifle in .300 Winchester short-mag caliber and touched off the shot.
"My buddy thought I had missed him, but the ram ran about 40 yards and collapsed," he said.
His hunt was over in just three days, and yet Pebworth didn't know that he had just taken the largest ram out of the 11 sheep taken in Unit 15D North on the two general hunts.
At the Region III office, the ram was aged and measured. The ram scored at 174-5/8 inches (gross) and 173-1/8 inches (net) and was aged at 7 years old.
The ram had horns that were 36-7/8 inches long (left) and 35-4/8 inches (right). The bases were just over 15 inches.
As it turned out, Pebworth's ram was the second-largest ram taken in Region III in 2013.
Only a ram taken by Mitchell Jones in Unit 15D South was larger. Jones' ram scored 179-3/8 inches.