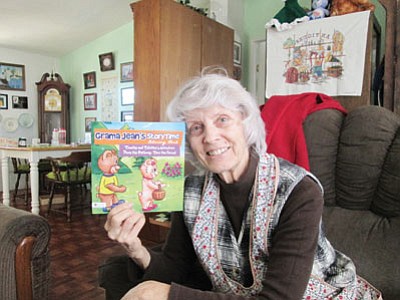 Originally Published: January 29, 2014 6:02 a.m.
KINGMAN - Jean Chowhan is a self-described "cookie-baking, quilt-making, canning and gardening old-fashioned grandma."
The Kingman resident is an author of children's books who recently signed a national publishing contract with Tate Publishing.
A born storyteller, Chowhan, who uses the pen name Grama Jean, has written and illustrated more than 40 stories for preschool children over the past 18 years, and just finished a whirlwind four-state, 19-venue book-signing tour - her first.
Grama Jean's Story Time Coloring Book: "Timothy and Tabitha's Adventures Down the Pathway, Thru the Forest," includes activities, a song and an audiobook read by Grama Jean.
Every one of her stories has a Christian message for children, said Grama Jean.
"They also get to color the pages themselves, and that makes the book special to them," she said.
That message, she said, focuses on the Golden Rule and why it's important to treat others as you want to be treated.
"Each book has its own message of, 'what would Jesus do' without saying what Jesus would say," she said. "They pick up on it."
With 10 grandchildren - one of them a girl - and one great granddaughter, Grama Jean began telling stories to her oldest grandson, Luke, about 18 years ago.
She didn't start writing them down until about 10 years ago, she said, and has spent the past decade reading her stories to her grandchildren and children at her Kingman church.
"My audience is the preschool munchkins," she said. "They are so adorable and they get me."
Grama Jean inherited the storytelling gene from her own grandmother, Annie Butcher, as a child living in Long Beach, Calif.
"She would see a bird fly by and she would tell a story about it," said Grama Jean.
Eventually, Grama Jean would discover Tate Publishing, based in Mustang, Okla.
"They're a Christian bookseller," she said, "and the contract we signed was very fair."
Grama Jean and her granddaughter Jessica, 18, spent three weeks traveling to 15 preschools and 4 hospitals for book signings.
"That was just a great bonding experience," she said. "And I've received some wonderful feedback. One teacher said her kids didn't talk about nothing but Grama Jean for weeks."
She also reads to children at hospitals, where it's more personal, just her and the child.
She said she couldn't name a favorite book, except to say the one she's writing at the time is the one she likes the most.
A reading will take place at Hastings on Stockton Hill Road sometime in March, and Grama Jean will do readings at Hastings locations in Bullhead City on Feb. 2 and Lake Havasu City at a date to be determined.
Grama Jean's goal is to publish a series of Timothy and Tabitha's adventures.
The book can be purchased online at Amazon, www.amazon.com and Barnes & Noble, www.barnesandnoble.com. In the meantime, log on to Grama Jean's website, www.gramajeanstorytime.net, for free coloring and activity downloads, and look for her next book signing event.