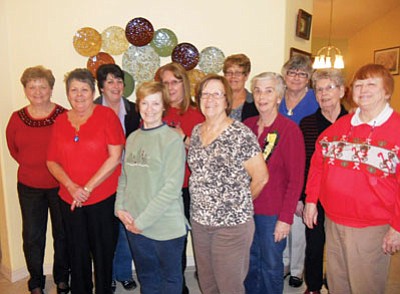 Originally Published: January 30, 2014 6 a.m.
The Laureate Beta Epsilon Chapter of Beta Sigma Phi Sorority held their Annual Christmas Social Dinner Party at Calico's Restaurant on Dec. 14.
Members and spouses/guests attending were: Camille and Paul Patula, JoAnn and Ed Reisbeck, Marsha and Bud Gatlin, Corliss and Pat Foley, Chris and Bruce Fink, Ellen and Tom Gustafson, Roxie and Gene Daniel, June Schultz and Sid Kindig, Rosie Freeman, Barbara Bernard and Elyse Siokos.
Everyone enjoyed the dinner. Instead of exchanging gifts among ourselves, we opted to donate $10 per person to the Kingman Area Food Bank.
The second meeting for December was held at the home of Ellen Gustafson. We conducted a short meeting and then shared lots of cheer! Ellen served sub sandwiches with all the fixings. We then had fun opening small gifts from all our sisters and our personal secret sister.
Barbara Bernard drew Elyse Siokos' name to win the beautiful ribbon wreath she (Barbara) had made for her program at a previous meeting.
New Year's Eve came and went with a few of our sisters who were actually able to stay up long enough to ring in the New Year, but they were ready to retire shortly thereafter.
Those attending had a good time, good food and good company.
The New Year began with the first meeting being held at the home of Pat Luelling on Jan. 9. We had 11 of our 13 members present. Plans were made to vote for our Valentine queen and king, to be crowned at the Valentine Dinner in February and for the upcoming Founder's Day Dinner.