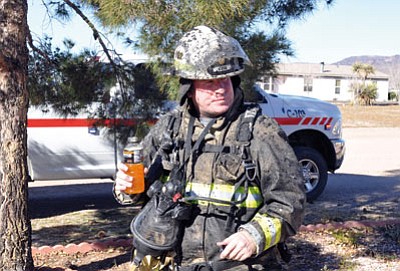 Originally Published: July 3, 2014 6:02 a.m.
GOLDEN VALLEY - Fire service veteran Theodore "Ted" Patrick Martin took the helm of the Mohave Valley Fire District during a ceremony conducted Monday.
Martin, who previously served for three years as the assistant fire chief for the 220-square-mile Golden Valley Fire District, officially begins his duties as MVFD's top firefighter July 14.
The new fire chief will be responsible for the overall day-to-day operation of the 64-square-mile fire district, its three fire stations (two in Mohave Valley and one at the AVI Indian Casino in Laughlin, Nev.), and the supervision of an administrative staff, 27 fulltime firefighters, and a host of pay-on-call (POC) firefighters in addition to numerous non-firefighting volunteers.
Martin says he is looking forward to being able to share his fire service knowledge and education with the employees, POCs and volunteers of the fire district.
"I look forward to the opportunity to learn in a new area and new community," said Fire Chief Ted Martin. "I am very much a community public service oriented guy and am happy I will be able to meet the residents and local officials in the Mohave Valley area."
The new fire chief's wide and diversified career in the fire service spans more than 30 years and began in May 1980 as a cadet firefighter with the Clarendon Heights Fire Protection District in Clarendon Hills, Ill. He has served in a variety of positions during his career, including as a paid-on-call firefighter, a career service firefighter, acting lieutenant and then career service lieutenant, acting battalion chief, and as a field staff instructor.
While working in Illinois, he received his emergency medical technician certification and also worked as an EMT for the Iroquois Memorial Hospital Ambulance Service in Watseka, Ill.
During his stint as a firefighter in Illinois, Martin felt the need to expand his knowledge and expertise by serving as a member of the 3rd Ward Alderman (legislative body) for the city of Watseka, and he ultimately was elected and served as mayor and chief executive officer of the city for four years.
Martin received an Associate of Applied Science Degree (fire science) in 2003 from College of DuPage in Glen Ellyn, Ill. and a Bachelor of Arts Degree (management) in 2010 from Benedictine University in Lisle, Ill.
Martin's certifications include firefighter II and III, fire apparatus engineer, instructor I and II, fire officer I and II, and hazardous materials operations, among others.