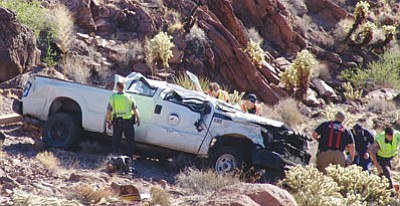 Originally Published: July 3, 2014 6 a.m.
GOLDEN VALLEY - A Mohave County Public Works supervisor is lucky to be alive after the county truck he was driving on Oatman Highway plunged about 150 feet off an embankment early Wednesday morning.
The Golden Valley Fire District Technical Rescue Team responded to the scene just before 6:30 a.m., along with Golden Valley firefighters and paramedics, Mohave Valley firefighters, the Mohave County Sheriff's Office and Mohave County Sheriff's Search and Rescue units. A crew flying a Department of Public Safety Ranger helicopter lifted Kevin Stockbridge and a rescuer from the crash scene by rope.
"The cab was completely crushed flat," said Golden Valley Fire Chief Tom O'Donohue. "The patient was awake and talking to firefighters, so we were able to move more deliberately and safely while we prepared to extricate by cutting off the roof and doors."
O'Donohue said Golden Valley and Mohave Valley firefighters attended to the driver, the sole occupant, while Mohave County Search and Rescue members set up a rope-rescue hauling systems to lower heavy equipment to the crash site.
The DPS helicopter crew lifted the patient and a search and rescue member from the crash site using a long rope. The pair was brought to a waiting ambulance parked on the highway.
The three-hour rescue operation included about 20 responders and traffic was blocked for about two hours. Stockbridge sustained non-life-threatening injuries and was taken to Kingman Regional Medical Center.
The circumstances preceding the crash, which occurred west of Ed's Camp, are unknown at this point. He was wearing a seatbelt and alcohol does not appear to be a factor.
The chief noted the rescue was possible thanks to actions the Mohave County Board of Supervisors took last year when they annexed all county roads within 400 square miles into the Golden Valley Fire District.
"This annexation allowed the GVFD to do as promised to the BOS," he wrote in a short note to supervisors.
He praised supervisors for their forward thinking.
"They made the right decision, and today it paid off big time," he said.